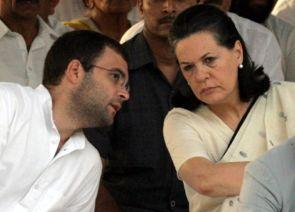 In a fresh salvo at the Gandhi family, Narendra Modi on Friday said the country could not be run by a government working on "oxygen from mother and son" and a "dead, feeble and fractured" regime was not needed.
"The country needs a strong government at the Centre to pull it out of the destruction done by UPA. A dead, feeble, fractured government is not the need of the hour," the BJP prime ministerial candidate said at an election rally at Hoshiarpur.
"The country can't be run by a government which is working on oxygen from mother and son," he said, without naming Sonia Gandhi and Rahul Gandhi.
Modi said, "In the past 10 years, she (Sonia) has only worked on securing a better future for her son (Rahul)...she is only worried about his future and not about the country."
"The mother and son have destroyed the country," he said, adding, "Congress has played fraud with the people."
He also took a jibe at Prime Minister Manmohan Singh, saying, "I am surprised that Manmohan Singh worked here (Punjab)...he did teaching work...but he did not care to pay back to the place to which he belongs."
He said people were fed up with "hollow promises" of the UPA government. "My intentions are clear...I will bring change in your life," he said.
On the issue of black money stashed away in foreign banks, Modi said a BJP-led NDA government would bring this money back.
"I am surprised that people in Congress start shivering whenever there is talk of bringing back black money," he said.
In an apparent reference to Amarinder Singh, he said, "A former Congress chief minister had been exposed after it became known that he had account in a foreign bank."
"From where did this money come...today or tomorrow he will have to answer," he said.
At Pathankot, Modi accused Congress of joining hands with NGOs to run a one-point programme to stop him from coming to power, but said they would fail due to the "hurricane" of support for BJP.
In the backdrop of inflow of drugs from Pakistan into Punjab, he cautioned that India's enemies who failed to break up the country, have resorted to narco-terrorism as part of their nefarious designs to destroy the youth.
"Normally, political opponents get together to remove the ruling party but it is for the first time that the ruling party in association with NGOs and others has run a one-point programme not to save the government or form the government but only to stop Modi from coming to power," Modi said.
"Congress will not be able to touch the double figure mark in any of the states," he said.
In India's 60 years of history, there has not been such a "bad, corrupt and defamed government", Modi alleged.
About inflow of drugs from Pakistan, he said, "The people who cannot defeat us in wars, those who cannot destroy us by the bombs and bullets of terrorists, those who fail to break our country internally, such inimical forces have now taken to new route, which is very dangerous and that is narco-terrorism."
Modi said when BJP-led NDA at the Centre comes to power, it will put an end to drugs being pushed into Indian territory from across the border.
"We won't allow our youths to be destroyed," he said, adding the country's border security will be modernised.
At an election meeting in Ludhiana, Modi said, "The government led by mother and son has been looting the country for the last 10 years. In 10 years, the Centre created only 1.25 crore jobs" against its promise to generate 10 crore employment opportunities.
Hitting out at UPA government for its "anti-industry" policies, Modi said the Centre had "failed" in industrial raw material management and making adequate finance available to country's small and medium scale units which was essential for boosting overall industrial growth.
Drawing a comparison with job creation during Atal Bihari Vajpayee's government, he claimed the NDA government had generated 6.5 crore jobs.
Modi also laid emphasis on boosting country's manufacturing sector in order to take on China. "There is a big competition between China and India in manufacturing and industrial sectors. If we have to compete with China and if we have to take India ahead in manufacturing sector, then we will have to push industrial cities like Ludhiana ahead," he said.
Accusing the UPA government of ignoring human resource development, he said, "This government had said in its manifesto that Rs 30,000 crore was to be earmarked for skill development. They had promised to give certificate in skill development to 10 lakh youths. But in last 5 years, they managed to give just 18,000 such certificates."
Modi said Ludhiana could become country's pride. "We will want zero-defect manufacturing here. Whatever they produce here should get instant export market," he said.
Image: Congress President Sonia Gandhi and party vice president Rahul Gandhi