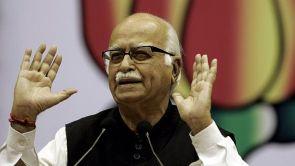 Gujarat Congress on Friday filed a complaint with returning officer of Gandhinagar Lok Sabha constituency, alleging that senior Bharatiya Janata Party leader and the party's candidate L K Advani submitted false information regarding his education in the election affidavits.
"We have filed a complaint with the returning officer demanding action against Advani for providing false information and for discrepancies in the column 'educational qualification' in the affidavits filed by him with his nomination forms," state Congress chief Arjun Modhvadia said.
Modhvadia claimed that there were discrepancies in Advani's affidavits in 2004, 2009 and 2014 regarding the years in which he passed matriculation and law degree exams.
"The affidavits of 2004 and 2009 say he passed class 10th in 1942 and cleared class 12th in 1944 and passed his law examination in 1947. While the affidavit of 2014 says that he cleared matriculation in 1942, Inter Science in 1944 and LLB in 1947," Modhvaida said.
"Advani should have known that before independence, there was no class 10th and 12th and matriculation was class 11th," Modhvadia said.
Advani, in his autobiography, 'My country My life', has written that he went to Mumbai for the first time in 1947, the Congress leader said.
"However, he has said in all the three affidavits that that he cleared LLB from Government Law College of Bombay University in 1947. If his book is right that he had gone to Mumbai in 1947, how can he get the law degree in the same year," Modhvadia asked.
"The Congress party has demanded that action should be taken against Advani. We have also supplied photocopies of his book in support of our complaint," Modhvadia said.
The Congress leader also wanted Advani to clarify the issue.