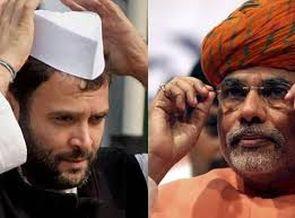 After Congress Vice President Rahul Gandhi attacked Bharatiya Janata Party prime ministerial candidate Narendra Modi over acknowledgement of his marital status, BJP on Friday asked why an issue was being made out of it when the Gujarat chief minister has "never lied" on the matter and there was "no aggrieved party".
"I want to tell Rahul Gandhi that he should read the affidavit carefully. Whatever information he (Modi) is giving are all correct information and he has never lied on this," BJP spokesperson Nirmala Sitharaman said.
In an election meeting, Congress vice-president raised the issue of Modi's marriage and said while his party made claims of ensuring safety of women, it took several elections for its prime ministerial candidate to mention the name of his wife in the poll affidavit.
Reacting to Gandhi's statement, she said, "Rahul should not make any statement hurriedly before going through the affidavit."
When it was pointed out that women groups have also raised the issue of denial of rights to Modi's wife Jasodabehn for many years, she said, "Let's ask questions to those women groups. Are they trying to justify child marriage? Here is a case where both of them have very clearly come out to say what their position is. Modiji's brother has also explained it."
She further said "the lady does not feel aggrieved here".
Taking on women's groups, he said "where are these women rights groups. Should not they be attending to Mulayam Singh's comment rather than here where there is no aggrieved party."
Meanwhile, in Varanasi, BJP national spokesman Ravi Shanker Prasad condemned "interference" in the personal life of Modi and said he had never claimed himself to be single.
"Modi was married at a young age and soon after his marriage he joined RSS and became pracharak... on this issue his brother has written an elaborate letter clarifying the matter....Modi had never said that he was single," Prasad said.
After a pause and avoiding the question for a while, Prasad said it was a serious issue and it applied on Rahul Gandhi too though he didn't prefer interfering in anyone's personal life. He said, "I know many secrets of Gandhi family too from the Nehru, Indira and Rajiv but do not want to disclose them."
When sought reaction over Rahul's speech in Doda on the issue, Prasad said that "if Rahul has said anything on this issue then I condemn it and a person should not interfere in anyone's personal life".
Rahul said "how will he (Modi) protect women of this country when he could not protect his wife, after such long time it was mentioned in affidavit that he was married".
Prasad also termed as shameful SP chief Mulayam Singh Yadav's remarks on rape that "boys make such mistakes but that doesn't mean that they get hanged".
The BJP leader said that the high percentage of polling so far has proved that there is a wave in favour of Modi and BJP is going to form the next government at the centre.
To a question on Rahul claiming that BJP and Modi have "shoved Advani out and allowed Adani in", Prasad said Rahul is repeating Kejriwal's words.
On Digvijay Singh attacking Modi on his marital status, Prasad said, "No one takes Digvijay Singh seriously, neither his party nor the public nor do I take him seriously".
"Digvijay Singh will ruin the Congress party," he said.