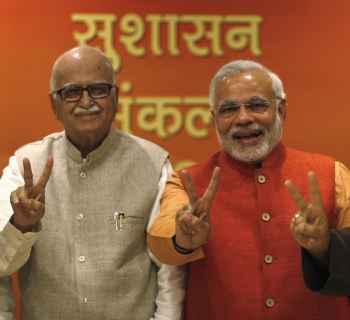 Accompanied by Narendra Modi, veteran Bharatiya Janata Party leader L K Advani on Saturday filed his nomination from Gandhinagar Lok Sabha constituency, putting up a show of unity after months of apparent frost in ties between the two.
Modi himself handed over the papers to the Returning Officer of Gandhinagar, a seat Advani was virtually forced to accept over Bhopal which was said to be his first choice.
86-year-old Advani, seeking his seventh term in Lok Sabha, was accompanied by Modi, Revenue Minister Anandiben Patel and his aide Deepak Chopra who suggested that Modi hand over the papers. Modi first urged Advani to give the papers but later relented.
Before the filing of nomination, Modi addressed a public meeting where he exhorted party workers to ensure victory of Advani with a "huge" margin and recalled the "illustrious" political career of the party patriarch.
Advani too praised Modi, calling him an able administrator.
"I will not call Narendra bhai my protege, but I have never seen a more brilliant and efficient events manager than him.
"And this event management capacity he had brought to governance also. That has made him more suitable for the assignment, the party has given to him."
He said Modi has proved a remarkable leader, not just of the BJP but even when he was an RSS pracharak.
Advani, however, said Modi should not be compared with Atal Bihari Vajpayee.
"I would not compare, certainly not to Atal ji. Atal ji was a class by himself. The main ideologue of the party was Deen Dayal Upadhyaya and the person to implement it in governance was Atal ji," he said.
Advani also denied that he was not keen on contesting from his traditional Lok Sabha seat of Gandhinagar and recalled his long association with Gujarat.
After Advani and BJP's prime ministerial Modi stepped out of the election authority's office, they were greeted by hundreds of BJP workers and state unit leaders.
Advani had won with a margin of more than 1.20 lakh votes from Gandhinagar in 2009, when he was the Prime Ministerial candidate of BJP.
Image: L K Advani with Narendra Modi at an earlier meeting in New Delhi
Photograph: Ahmad Masood/Reuters