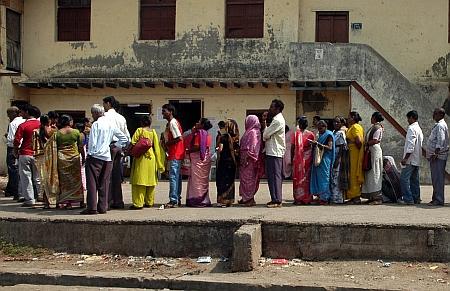 Bihar Director General of Police Abhyanand could not cast his vote on Thursday, as his name did not figure in the voters list. "My name is not in voters list. Hence, I am not able to exercise my franchise," Abhyanand told PTI, adding that this had occurred last time too.
The DGP said that due to work pressures, he could not do the necessary running around to get his name included in the voters list so that he could cast his ballot. Abhyanand lives in his private residence at Patel Nagar under Shastri Nagar police station area. The locality forms part of Patna Sahib Lok Sabha seat where actor-politician Shatrughan Sinha is locked in contest with Bhojpuri actor Kunal Singh of Congress, Gopal Prasad Sinha of Janata Dal-United and former minister and Aam Aadmi Party leader Parveen Amanullah.
The DGP said he was monitoring the security situation in seven Lok Sabha seats in the state where polling is taking place on Tuesday.
Image: People line up at a polling booth to cast their vote. For representational purposes only.