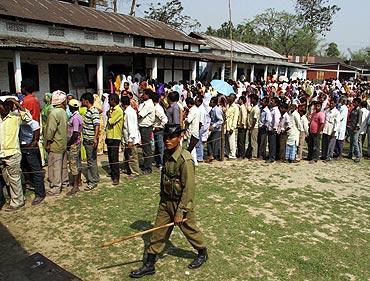 In the normal course, a high turnout reflects anti-incumbency but there is no correlation between high turnout and advantage to the National Democratic Alliance, says Dharmendra Kumar Singh.
Politics is a complex issue and co-relating high turnout is also more complex. Voter turnout has notched up to new highs in 91 Lok Sabha seats for 14 states and Union territories that went to polls in the third phase.
In the normal course, such a high turnout reflects anti-incumbency but there is no correlation between high turnout and advantage to the National Democratic Alliance. Narendra Modi is obviously a factor in this election but there is no parallel wave across the states. High turnouts were not reported in all 14 states but clearly found in Delhi, Uttar Pradesh , Jammu and Kashmir, Jharkhand and Bihar but marginal in Madhya Pradesh, Maharashtra, Haryana, Orissa and Kerala.
High turnout does not always reflect anti-incumbency. Sometimes it goes against government but sometimes goes in favour of government. The Congress party was thoroughly defeated by the Janata Party in the 1977 Lok Sabha election. Turnout increased a mere 5 percent from 55 to 60 percent in that election. The opposition front won because it made issues of the emergency and its excesses. But the Congress returned to power in 1980 when the turnout fell by 4 percent.
It clearly indicates that the arithmetic of turnout will not help us without understanding of chemistry of issues. Chemistry is more important than the arithmetic of the turnout. There was a wave or bi-polar contest between Congress and Janata Party in 1977 but such chemistry did not work in 1980 Lok Sabha election. Interestingly Congress had increased its tally in 1984 Lok Sabha election, with turnout improving 7 percent after Indira Gandhi's assassination.
The Congress got 415 seats out of 542 seats and scored the highest votes share around 48.1 percent in its history after independence. The Congress might not have secured huge numbers if opposition parties had not fragmented. After 5 years, the Congress suffered a heavy defeat, and wasreplaced by the Janata Dal coalition led by V P Singh in 1989 even after turnout dropped by around 2 percent.
After the 1989 election, the country has been seen many general elections but turnout never crossed 62 percent during six general elections in 20 years. The increase in turnout is in keeping with the trend that has been seen in state elections also over the past five years from 2009. It is not surprising that the turnout has increased by 3-12 percent in many states during this period.
Overall, the participation of voters in India has increased and it is improving. The reason behind of high turnout seems that the Election Commission has been making all efforts to increase the polling percentage this time and also making an effort to make the voters aware about the importance of their vote in a democracy. Literacy is also important factor to force the voters to cast their votes.
Apart these factors, a high voltage election campaign and Modi-centric issues also make this election more aggressive. Almost all the assembly elections held in different states between 2009-13 witnessed a higher turnout compared to those held in previous years in Goa, Gujarat, Uttar Pradesh, Bihar, Karnataka, West Bengal, Tamil Nadu, Delhi, Rajasthan, Chhattishgarh and Madhya Pradesh.
With voters more enthusiastic, and with political parties engaging in aggressive campaigning and mobilisation, there is little doubt that this Lok Sabha election would see a higher turnout. Try to understand of turnout trends in few states. Modi won consecutively third times in Gujarat assembly election even after turnout increased 11 percent from 60 percent to 71 percent in 2012. Shivraj Singh Chouhan of Madhya Pradesh, Raman Singh of Chhatishgarh and Prakash Singh Badal of Punjab retained their chair even after turnout improved from 3 percent to 12 percent. Akhilesh Singh Yadav replaced Mayawati due to an increased turnout of 16 percent in Uttar Pradesh but the NDA under leadership of Nitish Kumar performed very well in comparison of last assembly election even after the turnout improved 7 percent.
How turnout improved in Delhi and Uttar Pradesh. Delhi registered a turnout of more than 64 percent, surpassing the 51.85 percent seen in 2009 and 47.09 percent in the 2004 general elections. The state, where corruption, price rise, inflation and the safety of women are key electoral issues, saw a record turnout of over 66 percent in the December assembly elections too.
The turnout in the Delhi assembly election and this election is almost same that is why the Congress slipped in the assembly election getting only 8 seats. It seems the trend will continue in Delhi against the Congress party but Uttar Pradesh turnout increased almost 14 percent in comparison of previous Lok Sabha election in 10 seats of western Uttar Pradesh but it improved 3 percent in comparison of assembly election in 2012.
It may be because of the communal violence in western Uttar Pradesh that the turnout has improved.
In the last general election in 2009, voter turnout in Uttar Pradesh was 47.78 percent. Haryana saw a turnout of 70.7 percent compared to 67.49 percent in 2009 and 65.72 percent in 2004. The 10 constituencies in Maharashtra that went to polls on April 10 registered a turnout of 54.13 percent down by 1 percent in comparison of previous Lok Sabha election.
If voters of Delhi and Uttar Pradesh are so enthusiastic why not voters of Maharashtra? The Congress-NCP has been running the state last 15 years but turnout did not improve here. Among the states, Kerala was the frontrunner, with 73.6 percent of the voters exercising their franchise. The state has a history of high turnouts -- it saw a turnout of 73.36 percent in the 2009 general elections and 71.45 percent in 2004.
Madhya Pradesh saw high turnout 72 percent in recent assembly election but down by 16 percent in Lok Sabha election this time. Even turnout of Bihar improved by 14 percent in 6 Lok Sabha seats in comparison of previous Lok Sabha poll but increased 2 percent in comparison of 2010 assembly election.
It seems there is no direct relationship to a high turnout which is not necessarily a vote against the government but it is still interesting to see how rest of parliamentary seats behave in the election.
Dharmendra Kumar Singh is a political analyst.