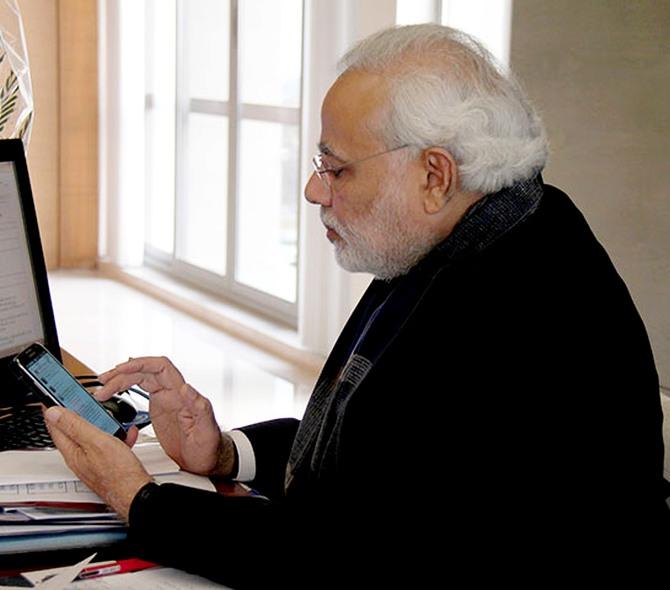 India has gone mobile and political parties don't want to miss the opportunity to use the medium. While social media is the future and is attracting new faithful every day, mobile phones are the present and deliver the message right to the users.
While phone call-outs was a weapon of choice for the Aam Admi Party in the 2013 Delhi elections, both the Congress and the Bharatiya Janata Party and other national and regional parties are extending their reach to voters through mobile phones, smart phones and in the general election campaign.
India might currently be second to China in the total number of mobile subscribers, with around 90 crore users. The mobile telephone network has aggrandised greatly since 2000. The growth of mobile telecommunications has been exponential and the reach has been inclusive with all age groups and remotest parts of the country being covered.
In fact the mobile tariffs in India have become among the lowest in the world with a new mobile connection becoming easy to activate with a monthly commitment as low as Rs 10.
Clearly, this is a market that no one wants to miss out on and all national political players are going full steam to connect to voters at fast speeds and low costs, with a focus on youth and people living in remote areas.
The BJP first started phone based call-outs in 2004 but mobile telephony has since acquired critical mass as mobiles have moved away from the classes to the masses.
Arvind Gupta, head of the BJP's IT division, says mobile campaigns are effective as it is a targeted, personal and pervasive medium. "Use of mobiles is central to our overall campaign strategy, which is 360 degree, we are focused on both feature as well as smart phones and have been effectively using the campaigns on these to reach our audience for well over six months now," he explains.
Arvind says that one of the interesting features in this general election has been the BJPs voice call portal where anyone can call in and listen live speeches by Narendar Modi, party's star campaigner and PM candidate."There has been high traffic on this portal," says Gupta.
The use of outbound calls has also been generating buzz with all political parties using this to create personal connect between their leaders and the masses.
"On Holi, around 50 million Indians were reached by Modi's recorded message, and the pick up rate was over 90 percent which is quite encouraging."
Apart from outbound calls which convey specific messages to voters, political parties are also using recorded messages of candidates and leaders as ringtones or caller tunes, and this creates "high recall" for the party, says a source in the Congress IT team.
"Messages on the mobile are also about the comfort of a leader or candidate, whether these are regional, national or particular theme based. Some leaders are very friendly and comfortable so one can hear many of their messages but most leaders are not so comfortable in recording messages, so it is not possible to get too many messages in circulation or making them viral," said a source in Samajwadi Party.
This would explain the variety of mobile phone messages by Modi or Arvind Kejriwal and comparatively lesser outbound messages by leaders of other national parties.
Whatsapp which is a relatively new buzz for mobile users in India and has gained currency across all age and social groups, is also a powerful medium for the digital campaign managers.
"Unlike popular belief, people in rural areas are also well connected with Whatsapp which is available on all android phones, The Congress in fact pioneered the 'with Congress' campaign and it is quite effective for 18-30 year group," adds a source in the Congress IT team.
Whatsapp is also being used for connecting volunteer-to-volunteer groups across states and regions, for understanding sentiment of people and for going viral with specific audio/video messages which the party wants to communicate to voters by all campaign teams.
"For instance, we used Whatsapp groups to know sentiment of people which was against the idea of Congress introducing reservations in the private sector, there are frank discussions, conversations happening there, apart from jokes etc, which is quite helpful," adds the source.
There is tremendous potential for the digital medium as it is being used in multiple ways to rope in opinion, shape the thoughts and win the minds and hearts of the Indian voters.
The burgeoning mobile user-base in the country has given the political parties an opportunity to take their campaigns directly to the people. While the user will be flooded with propaganda, the key question is if this is going to help the voter make informed choices.