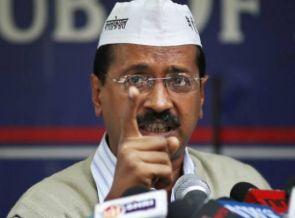 A day after the attack on Aam Aadmi Party leader Somnath Bharti on Wednesday evening in Varanasi, Arvind Kejriwal lashed out at the Bharatiya Janata Party and its prime ministerial candidate Narendra Modi, asking if the Gujarat model was about 'threatening people' and demanded the Election Commission's immediate intervention.
Accusing the local administration of not taking action against those involved in the attacks on AAP workers, Kejriwal asked, "What kind of culture is the BJP bringing to this holy city? This kind of attack is against the tradition and culture of this temple city. Is this the Gujarat model, where people are either threatened or bought over?" said Kejriwal, who is locked in a high-profile electoral battle against Modi.
Complete Coverage: Election 2014
Bharti was assaulted on Wednesday allegedly by a group of BJP workers at the Assi Ghat area in Varanasi when he went to participate in an election-related programme. The former Delhi chief minister also accused the administration of adopting a partisan approach towards AAP and claimed that it has not initiated any action against those involved in the attacks on AAP workers.
"Our supporters are not safe here. This is a fight to the finish. Anything can happen here. For one person (Modi), the administration has closed the entire city but is not heeding any of our requests," he said.
Targeting the Samajwadi Party, the ruling party in Uttar Pradesh, the AAP leader said the SP had colluded with the BJP. "I have carried out roadshows across the country. But here, I have been denied permission to hold roadshows."
Kejriwal further added that he and colleague Prashant Bhushan would be filing a complaint with the Election Commission about the assault and request them to ensure free and fair polls in the city. In fact, they have already filed a complaint against the BJP's Jyotsana Srivastava, who allegedly asked saffron party workers to forcibly drive out AAP volunteers if they entered the houses of residents.