Politicos are making sure they are leaving no stone unturned to ensure that their party wins in the area. Vicky Nanjappa reports on these unconventional and sometimes amusing methods being used.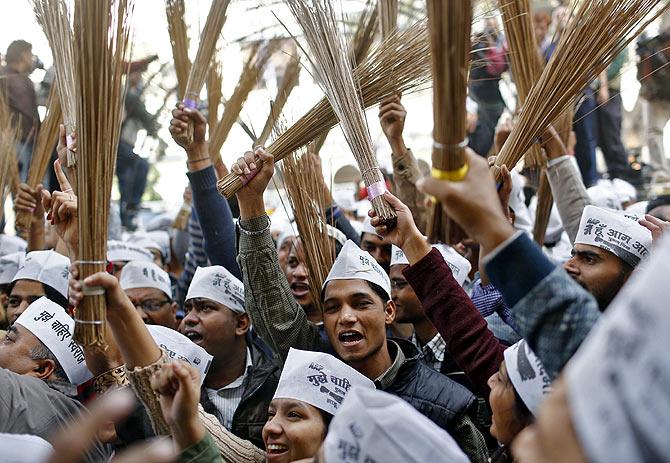 With Telangana going to the polls on April 30 and Seemandhra going to the polls on May 7, political parties are doing all in their power to ensure that they win and candidates are pulling out all the stops to ensure that their party installs the first government in the new bifurcated Andhra-Seemandhra region. While some are resorting to paid news, many others have taken the unconventional route of offering tea and samosas to voters so that they can come out on top.
Complete Coverage: Election 2014
Gimmicks and tricks
In Andhra, they say, go big or go home and following that adage, politicos are being more dramatic than ever. While some are mouthing dialogues from movies, others are dancing and singing for the people's vote. Then there are others who are going beyond these tricks to woo voters. Kishen Reddy of the Bharatiya Janata Party serves tea to voters.
Some Aam Aadmi Party workers gatecrashed a wedding, much to the amusement of the guests, with brooms, asking people to vote for them. But taking the cake in the theatrics department is the Congress. Their candidates are campaigning from sweet stalls on the roads, offering voters samosa and sweetmeats.
Other candidates in the old city of Hyderabad have even donned the role of butchers, selling meat to the people and in Secunderabad, YSR Congress's Vamsi Krishna and Congress's Jayasudha are playing dhobi. Krishna has been often caught at the dhobi ghat, holding up clean clothes to symbolise the cleansing of politics.
Ponnala Lakshmaiah and V Hanumanth Rao of the Congress have become cricketers. They arrive at cricket grounds and start playing at the venue, much to the amusement of the people.
Paid news
Paid news in the area has reached an all-time high this election. Out of the 854 cases of paid news that have been registered, 208 cases have been registered from Andhra Pradesh alone. Political pundits attribute the rise of paid news cases to the fact that most of the parties in the area have their own TV channels, to spread their propaganda.
Cash for votes
Candidates have also kept Election Commission officials on their toes. Several cases of money being distributed for votes have been busted, but officials say that for every case that is busted, another one crops up.
And candidates are now resorting to new, innovative methods to hand out cash away from the prying eyes of the EC. One such instance is where candidates are using netbanking to reach out to voters. Amounts are transferred by stooges to voters, who in turn go to ATMs and collect their cash, making it nearly impossible for the authorities to track down the candidates. According to sources, candidates have been able to distribute Rs 265 crore through different banks in Andhra in the past one month.
And while these methods may generate quite a buzz and be entertaining, one can only wait and watch to see if their efforts pay off on May 16.
Image: In order to woo voters, some AAP members gatecrashed a wedding holding brooms in their hands, asking people to vote for them.