If there is no possibility of NRIs coming to India to vote, why should they get enrolled, asks Chief Election Commissioner V S Sampath. Rediff.com's Aziz Haniffa listens in.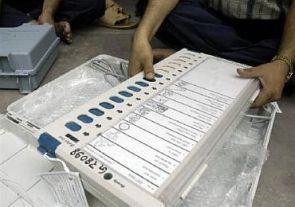 For all the hype about voting rights for Non Resident Indians, the number of NRI enrolled on the country's voting lists is a measly 11,000 or less, Chief Election Commissioner V S Sampath disclosed in Washington, DC on Monday, December 16.
In an interaction that followed his keynote address on the 2013 Indian state elections and the forthcoming parliamentary election at The Brookings Institution, a Washington, DC think-tank, Sampath said, "For long, there was absolutely no arrangement for them, even for enrolment. Since a couple of years now, enrolment is better for NRIs and now there is a facility for Indians living abroad -- that is an Indian who has not acquired any foreign citizenship."
Also See: EC's biggest dilemma: How to prevent media from influencing elections
But the CEC acknowledged, "We have still not made arrangements for them to cast their vote from outside the country. They can only seek enrolment, but if they want to cast their vote, they will have to come to the country at the time of the election and vote."
"So, because of this problem," Sampath felt, "there is no great enthusiasm in NRIs, even in enrolment as against millions and millions of NRIs living outside the country."
"People who have got enrolled is less than 11,000. If there is no possibility of coming to the country to vote, why should they get enrolled?" Sampath asked.
"One or two of the things that can be thought of is postal vote," the CEC said. "But under law, these people are not eligible for postal vote."
"Second, even if they are, the period from the last day of finalising the candidate to the date of poll is only 14 days."
"When our people are living in 200 different countries, would it be humanly possible for the presiding officer or the returning officer to send these many ballot papers to Indians living abroad to exercise their franchise and then send it back?" Sampath asked.
"From our experience in postal ballots, even for the defence forces, within the country, the number of people who are able to reach back is few," he said.
"The other option is to think of Internet voting," he said.
"We are very wary of Internet voting as of now because of the possibility of tampering, possibility of fraud, etc," Sampath said.
Even where electronic voting machines are in operation, the CEC said, "The machine is always in our sight and even then, we keep getting complaints from time to time."