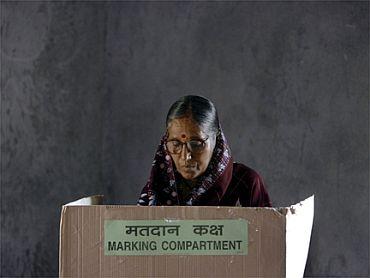 If I were the BJP, I would not be celebrating quite so quickly. It can sweep its heartland in 2014, as it has shown it can do, but that heartland isn't quite big enough. And it can put up a good fight in towns and cities, too – but unless it neutralises AAP or similar political entrepreneurs, it may find itself tantalisingly short, just as has happened to it in Delhi, says Mihir Sharma.
It would seem that the Bharatiya Janata Party's overall victory in the assembly polls requires little analysis. After all, in Madhya Pradesh and in Rajasthan, the Congress has performed worse than it has in decades, perhaps since 1977; in Delhi, it has been reduced to a Uttar Pradesh-style bit player, its place on the leaderboard taken by the Aam Aadmi Party.
First: there is, beyond dispute, a giant amount of anti-Congress sentiment in the Hindi-speaking belt. The results from Delhi, Madhya Pradesh and Rajasthan, as well as from north and central Chhattisgarh, reveal this. In a broad sweep of India from Raipur west to Kutch and north to Ambala, the Congress will suffer in 2014. (It is worth noting that it didn't exactly sweep these areas in 2009, either.) In this context, it would be glorious if the Congress' leaders tried appearing a little less smugly arrogant when they deal with this result than they have so far in the United Progressive Alliance's tenure.
Also, can we all please now acknowledge that Rahul Gandhi's 10 years of work "strengthening the Congress grassroots" is completely and utterly useless if he doesn't also take sensible, policy positions?
The idea that he can run away from the UPA's performance is not just politically ridiculous, it is being, and will be, seen as an amoral betrayal. He seems to be unable to reverse course; his concession speech showed a masterful ability to repeat himself, promising a "transformed" party. If it hasn't been transformed yet, Mr Gandhi, exactly how many more legislators would you like to lose before you can transform it?
Gandhi has very little credibility left with most people, and his continued unwillingness to create real policy discussions within Congress as opposed to ersatz elections and loyalty tests is hurting the party. In a slightly different world, I am pretty sure that Gandhi would have happily been working for Arvind Kejriwal. Unfortunately for the Congress, he's its unwilling leader. It is past time that Rahul Gandhi to step aside.
Second: Whether this converts into solid support for the Bharatiya Janata Party everywhere isn't that certain. As the Delhi results show, anti-Congressism doesn't mean a vote for the BJP if alternatives are available. In fact, people will flock readily to a credible non-Congress, non-BJP alternative. What does this mean? It means that the BJP, in 2014, can't rely on solid results in Bihar or Uttar Pradesh purely as a result of votes against the United Progressive Alliance. And, without a solid showing in UP, the BJP can't come to power.
Third: The question everyone's asking. What's Narendra Modi's influence on this round of assembly elections? Well, let's try to be logical about it.
In order to claim that Mr Modi made a difference to voting, you've got to show places where the BJP would not have won in his absence. Or, in other words, you've got to show places that might have voted Congress or AAP or BSP if not for Modi. That's tough to do. In fact, by all accounts, the results seem to indicate the absence of any such effect. Shivraj Singh Chouhan of Madhya Pradesh, who has never lost a chance to rubbish Mr Modi, will have a million reasons why the vote in MP reflects less on Modi than on him. In Delhi, where someone just looking at the campaign posters would think that Modi was the CM candidate and not the genial Dr Harsh Vardhan, the BJP failed to mop up the votes of those who swung away from the Congress. In Rajasthan, if any personality mattered, it was Vasundhara Raje Scindia. Modi is likely to deliver a bombastic victory speech, but it better not be from the Red Fort just yet.
This is not to say that Modi did not make a difference in these elections. He did -- but only very indirectly, for example in Delhi, by forcing the BJP to dump Vijay Goel for Dr Harsh Vardhan, and by energising the party's cadre. In other words, Modi did what the Gandhis should have been doing for the Congress: control factional infighting and pump up workers, all to the greater good of the party. (The Gandhis notably failed to do this in Rajasthan.) Whether this will happen again going into the general elections is anyone's guess.
Fourth: this is not the general election 'semi-final'. The element of anti-Congress sentiment is important, but not crucial. In at least three of the four states reporting today, the swing has mostly been caused by localised factors. In Rajasthan, the consolidation of certain evenly-divided swing communities -- the Jats, for example -- behind Scindia and Muslim discontent with the Congress government over recent deaths in police firing were reportedly crucial. In MP, the four per cent that voted for Uma Bharti's rebel party last time returned to the BJP fold. In Chhattisgarh, the southern tribal-dominated Bastar region voted following the devastating Maoist attack on a Congress campaign rally. And it would be all four states if you believe that the AAP is essentially a localised phenomenon, too.
Fifth: For the BJP, this result actually conceals some pretty bad news. If the Congress' gameplan is indeed, as many imagine, to abandon urban areas as lost and double-down on getting undecided rural voters to back it, then the BJP's strategists will have to look very hard indeed at whether that will allow their party to get to over 175-180 seats in 2014.
Simply put, urban voters carried the Congress to 200-plus against the BJP in 2009. Yes, there are more urban voters now. But are there enough of them to carry the BJP to 180 in an electoral landscape which also includes an energised and efficient Aam Aadmi Party? That's far from certain. Remember, the BJP's vote share in Delhi actually went down. If AAP contests across India, it will sweep up urban votes even in mixed urban-rural constituencies that would otherwise have swung to the BJP. Rather than repeating Delhi on a national scale, the outcome of this double election – one on local issues in rural areas, one on national issues in urban areas – is remarkably uncertain. The BJP might lose just enough urban votes to AAP to let Congress get a slight plurality in mixed urban-rural seats.
If I were the BJP, I would not be celebrating quite so quickly. It can sweep its heartland in 2014, as it has shown it can do, but that heartland isn't quite big enough. And it can put up a good fight in towns and cities, too – but unless it neutralises AAP or similar political entrepreneurs, it may find itself tantalisingly short, just as has happened to it in Delhi.
And finally: let's dump the "voters now reward good government" nonsense. Frankly, it doesn't seem to have any predictive power. We wind up evaluating whether a government was good depending on whether it was voted back in or not. If Ashok Gehlot was voted back in in Rajasthan, we would have pointed to his government's improvement of the last-mile delivery of state services. Were Raman Singh to return, we would say that he has delivered good government; if he doesn't, then it's because he was populist about free food. Sheila Dikshit was generally supposed to have delivered "good government" and she's been handed an epic drubbing. (Of course, now that she's been handed said drubbing, pundits discover with truly ridiculous 20/20 hindsight that her governance wasn't so good after all. Or it suddenly becomes a national-level governance issue.) When an explanation can be used to justify any result, it isn't an explanation.
So, please, can everyone stop with the sanctimonious preaching about voters waking up from a long nightmare of caste and community voting to a brave new dawn of a national two-party system where the better policy prescriptions and implementers are voted in? That may be a nice country to live in, but it isn't this one.