In Indian elections today, Chief Election Commissioner V S Sampath says, "Muscle Power has been replaced by Money Power," adding that the Election Commission's greatest dilemma is worrying about how the media can be prevented from influencing the outcome in the coming general election.
Rediff.com's Aziz Haniffa reports from Washington, DC.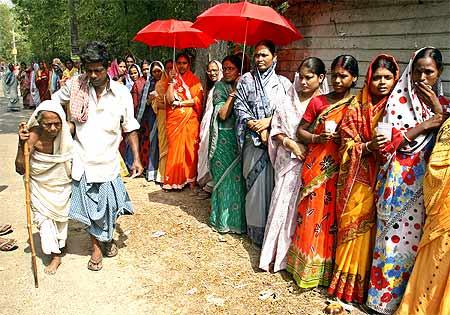 With diplomatic finesse, V S Sampath, India's Chief Election Commissioner, side-stepped the contention by the moderator at a detailed slide show presentation on 'Elections in the World's Largest Democracy' at the Brookings Institution in Washington, DC, that the likes of Narendra Modi or the Aam Aadmi Party were the catalysts behind the record voter turnout in the recent state assembly elections.
Instead, Sampath, in an interaction that followed at the Washington, DC-based think-tank, argued that a sustained campaign by the Election Commission to enroll India's youth to participate in the election process was what had resulted in the highest-ever voter turnouts in the Chhattisgarh, Delhi, Madhya Pradesh, Mizoram and Rajasthan elections.
In response to another question how the Indian media could be prevented from influencing the outcome in the coming general election -- particularly since they will be held in multiple phases -- and ensuring a completely honest turnout and the true election of the people, the CEC acknowledged, "It's not only a good question, it's an impossible question."
"This is the greatest dilemma facing the Election Commission," the CEC added.
Explaining the reason for the massive youth turnout of voters, Sampath said, "The youth enrollment is actually a much neglected segment for long. We took note of it about three years ago. Based on Census data, we know what should be the percentage of youth in the electoral vote."
"We found that only about 20 per cent were getting enrolled in the normal course, mainly because of migration by the youth either to go to college, or pre-university, or those who have to seek some jobs early in their life to support their family," the CEC said, adding, "They keep moving and when they go like that, they really were not able to really concentrate on enrollment."
Consequently, he said, by identifying the various places to where they migrate and reside for a particular period of time and enrolling these youth, gradually in places like Delhi, the enrollment rose from 20 percent to 64 percent.
In the recent election the enrollment was almost 80 percent. In other places about 60 percent, 70 percent.
"We still have not reached 100 percent with this," Sampath added.
Ahead of "this five-state elections... in the course of the year, we organised one more special summary revision and as a result in a state like Madhya Pradesh, millions and millions of people were enrolled during one year -- that is those who were apathetic about enrollment before."
"Our experience," Sampath explained, "has always been a voter who enrolls in an election year, he invariably votes. Whatever is the percentage of the people who enrolled in the last one year, because they are enthusiastic, they will vote."
In states like Delhi, he said the Election Commission had taken special efforts to enroll transient tenants who move "from locality to locality" because of tenancy laws.
"No house owner allows a person to stay more than 11 months because if a person stays more than 11 months, he may create problems for him late in terms of vacating. So, people like this will be moving house to house, locality to locality, constituency to constituency," the CEC added.
"So we concentrated on that also," Sampath said. "In Delhi, there were record numbers of enrollment with a record number of election officers. If it had not been done, all these names would have continued in the old rolls -- they would have got deleted, they would not have been able to vote."
On the dilemma regarding the extraordinary mix of technology and media playing such an active role -- exit polls predicting the outcome even before queues of voters empty and all the people have voted -- Sampath recalled that in the 2004 general election, all the political parties had said that exit polls and opinion polls should be banned during the election period.
Since this required a change in the law, the Election Commission had sent this consensus to the law ministry, he said, but the then attorney general had ruled against any such change, ruling that banning these opinion polls would 'affect the fundamental rights of citizens, the right to information, right to free expression, etc.'
"So, they did not ban opinion polls. They banned only the exit polls," the CEC said.
Exit polls, Sampath acknowledged, "can masquerade as opinion polls."
"There is no way you can stop people from gathering opinions from voters who come out of the polling stations in a massive election and they can always give these as opinion polls," he said.
"These are some of the gray areas people take advantage of, and legally they are on safe grounds though it may be questionable. But unless we are very clear and there is a well set law on these things, it will not be possible to check these things," Sampath added.
Asked if some of the best practices from US elections like early voting and reducing the time on the ban on campaigning before voting could be deployed in India, Sampath said the possibility of early voting had been explored, but that it was found not to be a feasible option.
"If you want to have early voting, campaigning must stop by the time of early voting. That is not something which is even contemplated in our law. It (the campaigning) has to be over and after there that there has to be some period for the voters to think," he said.
"The last 48 hours before the conclusion of the poll is the time, which is given for contemplation for voters -- that is, he had heard everyone, he has got all the material and he had to think who he is going to vote," Sampath argued.
"In early voting, you have this kind of problem, both legal and practical."
With regard to reducing the time for campaigning before voting begins, Sampath said this too could create problems.
"At least now, we ask all campaigners who come from outside the area to leave the place. Reducing that can be advantageous in one way. Now this period is given to people to go door to door and in the process they may be establishing some unhealthy contacts also with the voters," the CEC noted.
Earlier, in his detailed presentation, Sampath predicted that for the parliamentary election in May 2014, the Indian electorate could cross 900 million.
For the election to the 16th Lok Sabha, Sampath said the Election Commission will establish 900,000 polling stations, 1.18 million electronic voting machines.
The civilian and security personnel deployed for the election would exceed 11 million.
In Indian elections today, he said, "Muscle Power has been replaced by Money Power. India is a country where particularly voters in poorer localities, voters who are not literate, they can be swayed by offering inducements -- either cash or giving them some gifts, etc."
"We have fixed some limits for candidates -- how much he can spend in an election to ensure that he doesn't overspend and also ensure that he spends only on permitted items," the CEC added.
"For all these things," Sampath said, "we started the expenditure monitoring wing of the Election Commission."
"Another malaise," Sampath acknowledged, "is paid news -- that is advertising masquerading as news. When a candidate addresses a rally, even if the audience is only some 200, it can always be projected as if it is a humanity of 20,000."
"This can come as a newspaper picture, it can come in the electronic media," he said.
"We identify some of these things as paid news, but right now, the law on paid news has not evolved. Paid news is not a penal offence, but we address that from the expenditure angle."
Image: A woman is helped to a polling station to cast her ballot in Nandigram, about 150 km southwest of Kolkata, May 6, 2009. Photograph: Jayanta Shaw/Reuters