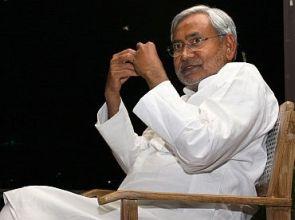 The JD-U Legislature party on Sunday decided to take the final call on choosing a new leader on Monday in the wake of the resignation of Chief Minister Nitish Kumar.
JD-U MLAs unanimously chose Nitish Kumar as their leader and insisted that he withdraw his resignation, but an emotional Kumar refused.
When MLAs persisted asking him to continue as CM and even threatened to sit on dharna at his residence, Kumar sought time till Monday to convey his decision, party spokesman Sanjay Singh told reporters.
Accordingly, JD-U Legislature party meeting has been called again on Monday, Singh said.
Nitish Kumar in his speech at the meeting said his continuing as chief minister would be a loss for the party and insisted on not withdrawing his resignation.
Kumar said he would devote more time to the party remaining out of power. He also said that rival BJP was making mockery of his resignation by describing it as "nautanki" (drama). But, party legislators refused to buy his argument.
Facing the heightened sentiment of the MLAs, Kumar sought time till Monday to convey his decision to the party on his resignation, JD-U Spokesman Sanjay Singh said.
Earlier, senior Minister Narendra Singh proposed the name of Kumar as party leader in the Assembly and all MLAs supported it, JD(U) MLA Ashok Kumar said.
Name of no other leader as new leader was proposed in the meeting, he said.
JD-U President Sharad Yadav, reported to be not in favour of continuation of Kumar after severe drubbing in Lok Sabha polls, was present in the meeting which witnessed sloganeering in favour of Kumar.
Earlier during the day, Yadav faced stormy protest from Kumar's supporters for his stand outside the chief minister's house.
Raising the slogan of 'One leader One mission', the legislators highlighted that since they got peoples' mandate in 2010 Assembly poll in the name of Kumar he should continue during the remaining 18 months of the present Assembly.
Of the total 117 party MLAs, four women legislators, who have been suspended for anti-party activities in the Parliamentary poll, were not invited at the nearly one-and-a-half hour long meeting at the residence of the chief minister.
The 4 suspended women MLAs were former minister Renu Kushwaha, whose husband Vijay Singh fought on BJP ticket against Sharad Yadav in Madhepura, Sujata Devi, Poonam Yadav, whose sister was in the fray from Khagaria on RJD ticket, and Anu Shukla who fought as an Independent at Vaishali Lok Sabha seat.
An Independent Binay Bihari, however, attended the meeting.
Tempers ran high outside the venue of the meeting with supporters of Kumar manhandling senior minister Ramai Ram, who has been speaking against the chief minister particularly after the debacle in the general elections.
Ram was pushed by angry supporters of Kumar. He was later cordoned by security personnel who took him to the state guest house under their protection.
Earlier, party MLC Rajkishore Singh also faced protest when he was telling mediapersons after coming out of the meeting that Kumar was not agreeing to take back his resignation despite insistence of the MLAs.