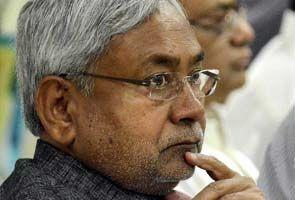 The Janata Dal-United will elect a new leader on Sunday, party chief Sharad Yadav said, a day after Nitish Kumar stepped down as the Bihar chief minister.

Kumar resigned after taking moral responsibility after the rout of the ruling party in the Lok Sabha elections.
Special Coverage: Election 2014
Yadav has hinted on Saturday that the party will tie-up even with bitter rival Rashtriya Janata Dal for formation of a "secular alliance". Nitish called RJD chief Lalu Prasad Yadav on Sunday morning, according to television reports.
Meanwhile, Yadav held talks with the Congress leadership, which is understood to have assured him of support in new government formation.

Sources in JD-U said that they have been assured of support from the Congress as the JD-U legislature party meets on Sunday.
Congress general secretary Shakeel Ahmed, who is a senior leader from Bihar, said the Congress has been supporting the JD-U government from outside and there was no reason to discontinue it.
"We have extended support to Nitish Kumar government to check communal force. I personally see no reason to withdraw support," he said.
Stressing that JD-U remains the single largest party and will form the government under a new leader, Yadav on Saturday rejected suggestions that Kumar quit for the fear of a split in the party.
"There is no rebellion. If there is any rebel why doesn't he go to the Governor? Who is stopping them," he shot back.
Commenting on the election results, Yadav said on Saturday, "The kind of mandate that has come has posed a challenge to us. We will effectively deal with it. We will rally non-BJP people around."

The JD-U won only two out of 40 seats in Bihar. It had won 20 seats in 2009 in alliance with the BJP, which had bagged another 12.
In the 243-member Bihar assembly, the JD-U has 115 members and the Congress with four members had been supporting the Nitish government. The BJP has 89 seats in the assembly and RJD 21. The JD-U also has support of one Communist Party of India MLA and two Independents. There are six vacancies in the House.

With inputs from PTI
Image: Bihar Chief Minister Nitish Kumar