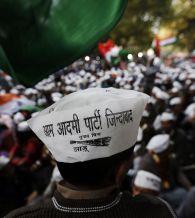 The Aam Aadmi Party and the Bharatiya Janata Party are going all-out to ensure that polling in Varanasi on Monday is conducted in a free and fair manner.
AAP activist in Varanasi have been equipped with spy cameras to monitor the polling process and keep a check on any mischief by political parties. AAP activists will be posted in around several polling booths.
AAP leader Sanjay Singh informed that this was being done to ensure that the polls are free and fair.
The BJP too is leaving nothing to chance. Its activists want to ensure that their opponents do not indulge in unfair practises during the polls on Monday. The BJP has positioned several of its workers to check any issue related to the Electronic Voting Machines. The BJP suspects there may be attempts to rig the EVMs. The party has in the past accused the Congress of tampering with the machines.
BJP workers have been instructed to report anything suspicious activity related to EVMs in any of the polling booths.
BJP workers told Rediff.com that the election at Varanasi was unique. They say all other parties will join hands to try and defeat the BJP by hook or by crook.
The district administration and the Election Commission of India too are geared up for Monday's polling. Varanasi has become a virtual police fortress and security measures are extremely strict. The Election Commission has appointed special officers and scores of observers to ensure that the high profile election process at Varanasi takes place smoothly.