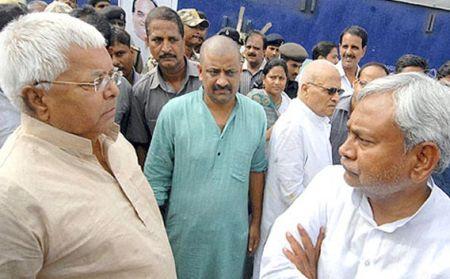 Speculations are rife about a tie-up between the Rashtriya Janata Dal and the Janata Dal- United after Chief Minister Nitish Kumar resigned following the severe drubbing his party suffered at the hands of the Bharatiya Janata Party in the Lok Sabha polls.
Rumours are swirling that JD-U chief Sharad Yadav spoke to Lalu Prasad Yadav. However, Lalu Prasad denied holding talks with either leader, saying, "These are baseless and concocted news. I did not talk to anybody," he said.
He added that the RJD was keeping a close watch over the developments in Bihar, adding he had called a meeting of his party legislators on Monday to discuss the political situation. Asked about the possibility of supporting Nitish Kumar if he is re-elected by JD-U in its legislature party meeting to be held on Sunday, Lalu Prasad said, "It's an internal matter of the JD-U and we have nothing to do with it." Reminded of his May 16 comment that secular forces should come together, he said it was in the larger context of the national level.
Meanwhile, the Congress is in touch with the JD-U for 'continuation of a secular government in Bihar in order to keep communal forces led by BJP out of power'. "Congress is keeping an eye over the development in Bihar and its high command will take a decision at the appropriate time," said state Congress media-in charge Prem Chand Mishra.
JD-U president Sharad Yadav, who arrived ahead of the crucial meeting, held talks in Delhi with Congress leadership which is understood to have assured him support in the new government formation in Bihar. The JD-U legislature party meeting, scheduled at 4 pm on Sunday at the chief minister's official residence, will elect its new leader following Kumar's resignation, he told reporters at Patna airport. "Our entire party, including Kumar will participate in the meeting. The legislators will decide who will be the new leader," Yadav said.
He did not rule out the possibility when asked whether Kumar could be re-elected. "I, myself had resigned earlier. Nitish Kumar had also resigned when he was the union railways minister. Whatever the party decides, it will be supreme," added Yadav.
Meanwhile, a group of JD-U legislators assembled at the residence of senior party minister Narendra Singh, considered a potential replacement of Kumar. Singh, who has on many occasions in the past spoken out against Nitish Kumar's style of functioning and government, denied being in the race. Stating he would work to bring back Kumar, Singh said, "Nitish Kumar has 80 per cent good qualities and 20 per cent kami (drawbacks) which he will try to overcome. I will propose the name of Nitish Kumar to again become CM of the state," he said.
Senior minister Vijay Chaudhary, who is also being talked of as another probable replacement of Kumar, also denied being in the race. "Bebuniyad baat hain… main koi race me nahi hun (these are baseless talks, I am in no race)," he said.
Upbeat BJP legislators and leaders have on the other hand flocked at the residence of senior leader Sushil Kumar Modi to keep a watch over the emerging political situation in the state.
Complete Coverage: Elections 2014