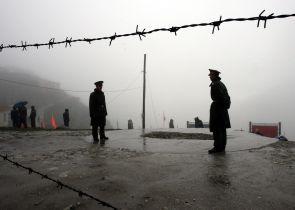 India is concerned about periodic provocative incursions by Chinese troops that have resulted in "eyeball-to-eyeball confrontations", but was hopeful that the border issues will eventually be settled.
"Obviously, we are concerned about periodic steps that seem provocative or adverse to our interests," External Affairs Minister Salman Khurshid said.
"But, of course, they (incursions) are occurring in the context of a different perception of what the Line of Control is and where it should be. The good news is that there hasn't been a casualty on the Chinese front for several years. There have been skirmishes and eyeball-to-eyeball confrontations, but no casualties", he said.
He believed the border issues will eventually be settled and peace and stability between India and China will become stronger over time, Khurshid said in an interview to The Australian.
Responding to a question if India and China, by virtue of their size, proximity, contrasting political systems and diverging geo-strategic interests, were not destined to some extent to be strategic rivals, Khurshid said: "Yes, I think that's to some extent inevitable, although it's much more complex than that, of course. But we'd like to be rivals who are also partners, partners who are also rivals."
"Our prime minister has said that the world is large enough to accommodate the aspirations of both China and India," he said.
Khurshid said he was prepared to talk in some detail about one of the most vexed issues in the Sino-Indian relationship - the border of Arunachal Pradesh - with China.
India and China last month inked a comprehensive pact - Border Defence Cooperation Agreement (BDCA) - which commits them not to use military capability to attack each other.
The agreement was signed following a series of incursions by the Chinese army into DepsangValley in Ladakh region in May.
Khurshid also expressed satisfaction with India's ties with the United States.
"The US is a very important security partner to us. We have never subscribed to the idea of an alliance. In the past, we had our non-aligned position and more recently we describe it as our autonomous strategic position.
"But, we have collaborated closely with the US. We are constantly now in joint (military) exercises. We are involved in intelligence sharing. We are looking at the joint design and manufacturing of defence equipment, so that we move beyond the vendor and customer relationship," he said.