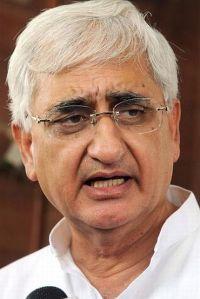 India is ready to give Pakistan "the benefit of the doubt" as the two neighbours pursue peace amid a series of ceasefire violations along the Line of Control, External Affairs Minister Salman Khurshid has said.
"When (Pakistan's Prime Minister) Nawaz Sharif says he wants peace and good relations with India, we take him at his word," Khurshid said.
But Khurshid said he cannot reconcile that word with the repeated ceasefire violations on the Line of Control in recent weeks.
"We talk to Pakistan periodically and in terms of personal gestures we receive great warmth," he said in an interview to The Australian newspaper.
"But the on-the-ground reality and the results of our meetings are very disappointing. Pakistan has a lot of very, very difficult issues to deal with at home. Our view is that we should give them time -- not at our cost, of course, but that we should give them the benefit of the doubt".
Pakistan-backed terrorists, especially the successors of Lashkar-e-Tayiba, are continuing to attack and kill Indian civilians in Kashmir and elsewhere, he said.
He said that Pakistan has not yet followed through on its promise of top-level military meetings to sort out better arrangements in Kashmir, "If they can address the dismantling of the infrastructure of terrorism, that would be a good start."
Intermittent cross-border firing started in January but intensified in August, when five Indian soldiers were killed in an attack by Pakistani forces along the LoC in Jammu and Kashmir.
During their meeting in New York in September, the prime ministers of India and Pakistan had agreed that the Directors General of Military Operations would meet to find ways to reduce tensions on the LoC. However, the meeting is yet to be held and the two sides have not finalised any dates for it.