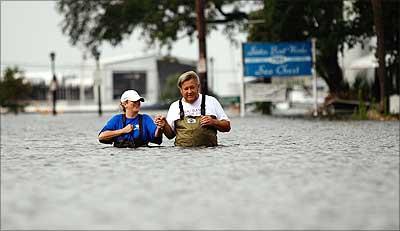 Giant Hurricane Ike began lashing the Texas gulf coast on Saturday with its fierce category 3 winds threatening to shut down United States' oil industry and flood the big water front area which is already under waist deep water.
Ike, which has already churned through the Gulf of Mexico, is now on a collision course with Texas, where already over a million people in coastal areas have been evacuated but thousand others have ignored calls to leave, deciding to brave it out.
Heavy rains have pushed a wall of water that has caused floods all along the coast, shut down oil refineries, endangered a freighter at sea and destroyed a pier in Galveston.
Ike's maximum winds were holding steady at 966 kmph and the storm was moving northeast that put its landfall towards evening southeast of Galveston, the National Hurricane Centre reported.
Officials said the initial flooding was only a preview of worse things to come, and one hurricane expert, Jeff Masters, warned that the storm "stands poised to become one of the most damaging hurricanes of all time".
President George W Bush, speaking in Oklahoma City, said he was 'deeply concerned' about the hurricane.
"The federal government will not only help with the pre-storm strategy, but once this storm passes we'll be working with state and local authorities to help people recover as quickly as possible," he saud.
It's expected to be up to 72 hours before anyone will be allowed to venture back to their homes in counties and areas under a mandatory evacuation order.
An estimated 1 million people were asked to evacuate and by this morning 100 shelters had been set up across the state.
About 1,000 workers are ready to move in within hours of Ike's arrival. These paramedics, police and others will go into the area to look for those hurt or killed. Utility workers will follow them in, to begin effort to restore power.
More than a million people have fled the Texas coast, state officials say. But unlike the lead-up to Rita, when choking gridlock caused widespread chaos and contributed to more than 100 deaths, those fleeing north today generally reported smooth trips.
Image: A couple walks through the flood waters pushed up from Lake Pontchatrain by Hurricane Ike in New Orleans, Louisiana. 
Photograph: Chris Graythen/Getty Images