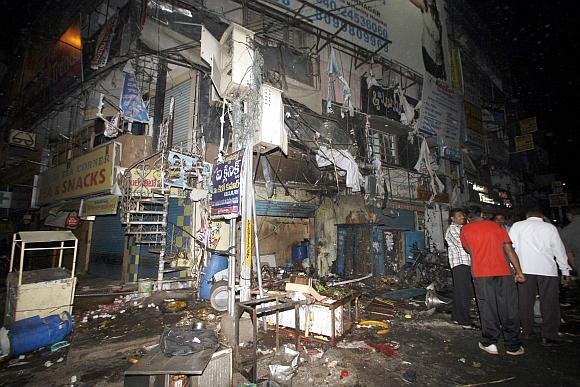 A close aide of Indian Mujahideen co-founder Yasin Bhatkal, has confessed before a magistrate that he had assembled the explosives and had "guided" the members of the terror outfit while planting bombs at Hyderabad's Dilsukhnagar area in February last year.
In his confessional statement recorded under section 164 of the CrPC in October last year, Asadullah Akhtar said the February 21, 2013 twin blasts at Dilsukhnagar area were executed by him on the instructions of another IM co-founder Riyaz Bhatkal who is now in Pakistan.
The confessional statement given by Akhtar has been filed in a Delhi court by the National Investigation Agency along with its charge sheet against Yasin Bhatkal, Akhtar and two other suspected terrorists.
Akhtar told the magistrate that in December 2012, he had a chat with Riyaz Bhatkal and they discussed "to do something in Hyderabad" and in that month itself, they received the money through hawala transactions in Bangalore.
He also said that in January last year, they received the explosives which were sent by Riyaz Bhatkal and thereafter, they conducted a reccee in Dilsukhnagar.
"On February 18, 2013, we finally decided the place as Dilsukhnagar. Thereafter, I decided the spot....we wanted to do three serial blasts but due to shortage of explosives, we decided only at the above said two places," he said.
Akhtar, a permanent resident of Azamgarh in Uttar Pradesh, told the magistrate that a "test blast" was conducted before the twin blasts and after the preparations, he had "assembled the explosives".
"Monu (IM operative) has planted (bomb) at Al Mirchi centre and Waqas (IM member) planted near Dilsukhnagar bus stand and by that time, I was nearby them...," he said.
The twin blasts had rocked Hyderabad's Dilsukhnagar area on February 21 last year claiming 16 lives and the explosions were triggered by IEDs. Over 100 persons were injured in the blasts.
Akhtar told the magistrate that after planting the bombs at Dilsukhnagar, he and his associates had left for Bangalore and from there, he went to Nepal and met Yasin Bhatkal there.
In his confessional statement, Akhtar said the 1992 Babri Masjid demolition, September 11, 2001 attack on World Trade Centre in New York and other issues like "atrocities on Muslims" attracted him and thereafter he joined IM.
He said he had first contacted alleged IM operative Atif Amin who died in 19 September, 2008, Batla House encounter.
Akhtar also told the magistrate that he and his associates had planted pressure cooker bombs in Varanasi in 2006. Besides these, he also gave details about his involvement in various bomb blasts across the country including the September 13, 2008 serial blasts and September 19, 2010 Jama Masjid blast in Delhi.
The NIA had recently filed its second chargesheet against Bhatkal, Akhtar and two other suspected operatives of IM in connection with a case of alleged conspiracy to carry out terror acts in the country.
The court had taken cognisance of the 277-page supplementary charge sheet and fixed the matter for March 7 for further proceedings.
According to the NIA, Bhatkal, wanted in around 40 terror cases and carrying a reward of Rs 35 lakh, and Akhtar were arrested from Indo-Nepal border on the night of August 28 last year.