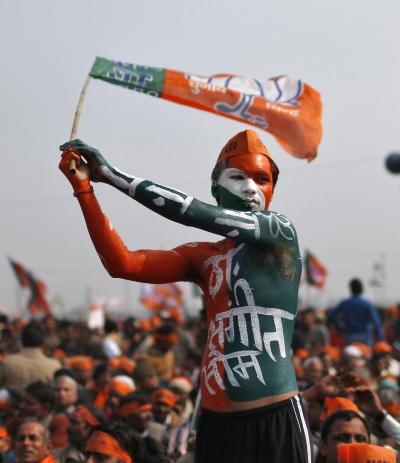 The Narendra Modi wave has spread across the country. At least, that's what you will believe or are rather told to believe by the plethora of pre-election surveys that have come out giving him and the Bharatiya Janata Party pole position.
However, a recent sting conducted by a private channel, News Express, exposed as many as 11 agencies, which are willing to manipulate their poll findings for money. That's not all. They have no qualms even accepting black money, claims News Express.
The shocker comes even as India gears up for the upcoming Lok Sabha elections due in May.
Political parties -- the Congress and the Aam Aadmi Party -- have called for an investigation into the matter. Law Minister Kapil Sibal has urged the Election Commission to look into what he calls "an extremely serious offence".

In the wake of the expose, we ask our readers as they prepare to elect their next PM, if they trust opinion polls and their findings. Tell us!
Image: A BJP supporter waves the party flag during a rally Narendra Modi's rally in Uttar Pradesh

Photograph: Ahmad Masood/Reuters