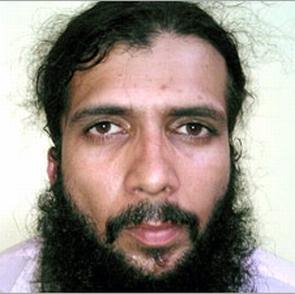 The Delhi police has filed its charge sheet in a local court against Indian Mujahideen (co-founder Yasin Bhatkal and his associate Asadullah Akhtar for allegedly setting up an illegal arms factory in New Delhi from where huge quantity of arms and ammunition were recovered.
The special cell of the Delhi police filed its supplementary charge sheet against Bhatkal and Akhtar before Additional Sessions Judge Daya Prakash who took cognisance of the final report and fixed the matter for further hearing on March 3.
Both the accused have been named in the charge sheet for the offences under various sections of the IPC and under the provisions of the Unlawful Activities (Prevention) Act.
The police had earlier filed its charge sheet against 16 accused, including alleged IM operative Quateel Siddiqui who had died inside Pune's Yerawada central jail in June 8, 2012.
In its supplementary charge sheet, the special cell alleged that Bhatkal and Akhtar had set up the arms manufacturing factory in Meer Vihar area of Nangloi in Outer Delhi for manufacturing arms and ammunition to carry out terrorist activities in Delhi and other parts of the country.
"A huge quantity of improvised explosive devices, explosives materials, arms and ammunition was recovered from there," it alleged.
The special cell had arrested Bhatkal and Akhtar in connection with the case on October 28 last year. It had in November 2011, busted the factory located in Meer Vihar area and several alleged IM suspects were arrested.
A first information report was registered against Bhatkal on November 22, 2011 and later a non-bailable warrant was also issued against him for setting up the factory.
The police had earlier said the weapons manufacturing unit had elaborate equipment like moulding, cutting, assembly drilling and grinding machines besides explosives and rocket launchers.
Bhatkal, who hails from Bhatkal village of Udupi district in North Karnataka, is wanted in a string of terror attacks in Ahmedabad, Surat, Bangalore, Pune, Delhi and Hyderabad, the agency had said.
Thirty-year-old Bhatkal, who was earlier associated with the banned Students Islamic Movement of India, is suspected to have hatched a conspiracy with others to wage war against India.
On February 20, the National Investigation Agency had named in a charge sheet Bhatkal, Akhtar and two other suspected operatives of IM in a case of alleged conspiracy to carry out terror acts in the country.
NIA had arrested Bhatkal, wanted in over 40 terror cases and carrying a reward of Rs 35 lakh, and Akhtar from the Indo-Nepal border on the night of August 28 last year.
Inspired by Osama
Bhatkal was inspired by al Qaeda chief Osama Bin Laden and used to motivate youngsters for sacrificing their lives in the name of 'jihad' through the videos of the slain terrorist, NIAsaid in its charge sheet filed in a Delhi court.
The NIA said Bhatkal had downloaded from the internet a number of documents, including lectures, and videos of Osama and other prominent terrorists, and made young boys go through them.
"He (Bhatkal) used to quote selected phrases from Islamic religious books in support of 'jihad'. He had downloaded from Internet a number of documents which portrayed Jihad as an obligatory act of every Muslim.
"He had also downloaded lectures of Muslim leaders and fighters like Osama Bin laden, Al Yazeed, Al Zarkawi, C Khateeb, Awlaqi from Internet. He made young Muslim boys watch these videos and read out these documents to them, so as to motivate them to sacrifice their lives in the name of jihad," the NIA said, adding all these videos, documents, files have been saved by Bhatkal in his laptop.