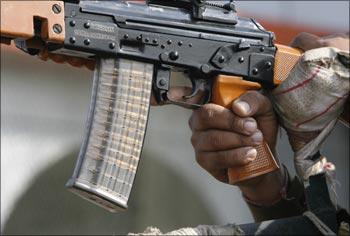 Indian Mujahideen co-founder Yasin Bhatkal sought the help of Nepal-based Maoists for procuring arms and ammunition but it did not fructify as they quoted very high rates, the National Investigation Agency has said in its charge sheet filed in a Delhi court.
During a chat Yasin had with another IM operative Riyaz Bhatkal on June 25, 2013, he mentioned he had met a top Maoist leader the day before, but the meeting was not that productive.
"He (the Maoist leader) was claiming very high rates for the supply of weapons. Yasin mentioned that he did talk about explosives," NIA said.
"Efforts were made for contacting Maoists in Nepal for seeking their aid," NIA said giving details in its second charge sheet filed before a court in New Delhi, against Mohd Ahmed Siddibapa alias Yasin Bhatkal, his aides Asadullah Akhtar, Manzer Imam and Ujjair Ahmed in connection with a case of alleged conspiracy to carry out terror acts in the country.
It further said that Yasin was acting upon the direction of absconding accused Riyaz, who asked him to contact Maoists of Nepal, in order to seek their assistance.
"During a chat with Riyaz on November 28, 2012, Riyaz asked Yasin to establish contacts with Maoists there, since they could be great help in procuring arms and ammunition for their organisation... Riyaz asked Yasin whether he had contacted the Maoists, since they had several items of arms dump/arsenal, provided in large numbers by China," NIA said.
It further stated that on December 16, 2012 Yasin had told Riyaz that he met one Maoist leaders, a Muslim convert, who had promised to provide a weapons license for Nepal.
"During the chat of Yasin with Riyaz on December 20, 2012 Riyaz asked whether the meeting with Maoists had happened, to which he replied in the negative. Yasin said that he had met two Maoists but they were not fit for their purpose...," NIA said.
The IM has established a new module in Rajasthan and members of the outfit were "highly motivated" to carry out terrorist activities in the country, the NIA has said.
According to charge sheet, members of the Rajasthan module of the outfit were in regular contact with Riyaz, who is based in Pakistan.
"Investigation has also established the emergence of a new module of IM operatives in Rajasthan, the members of which were in regular contact with Riyaz and were highly motivated to carry out terrorist attacks," the NIA said.
The charge sheet referred to the Internet chats of June 2 last year between Yasin and another IM operative Afeef in which they had discussed about the emergence of Rajasthan module of the terror outfit.
During the chats, Yasin was skeptical about the members of the Rajasthan module, the NIA said.
"Bhatkal stated that it was risky to trust anyone without full knowledge since such groups could be working under the direction of agencies like the RAW and NIA," the agency said.
The IM operatives were planning to attack Surat with nuclear warheads which they tried to procure from Pakistan, NIA has said.
In its 277-page charge sheet, the NIA said that after Yasin and other IM men failed to carry out a series of bomb blasts in July 2008 in Surat and Ahmedabad, they started planning to procure nuclear warheads from Pakistan to nuke Surat.
"The operatives also discussed about targeting Surat, where they had failed to inflict any damage during the attempt in 2008, and now wanted to nuke the city with nuclear warheads if they could be procured from Pakistan," the NIA said.

Image: Representation picture