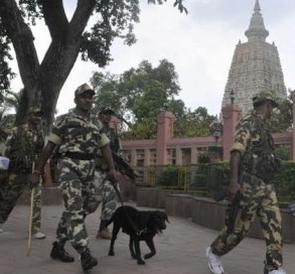 The ongoing National Investigation Agency investigation in the serial bomb blasts at Bodh Gaya's Mahabodhi temple has revealed that there was virtually no security during the night in the temple premises.

"The temple used to be without security at night, as guards of the private security agency-COBRA were assigned the security duty until 9 pm only by the temple management committee," a Bihar police official, who is assisting the NIA team, said.

According to local police officials, only few unarmed security guards of the BMTC were deployed on their routine duties. But no security existed within the main temple precincts.

Arvind Kumar Singh, a committee member, said that the private guards remain on duty from 5 am to 9 pm only in two shifts. Each shift has eight guards. They are mainly for general frisking and ensuring that people buy tickets for cameras during the day.

He said the temple has 22 BTMC guards. "It was only after intelligence agency security alerts last year that number of security guards was increased by four to 16. Earlier, there were only 12 guards on duty in the temple," he said.

Interestingly, the agreement between BTMC and the security agency were for round the clock security. But there was no security arrangement for night.

Lallan Mishra, an official of the security agency said that the guards were supposed to be on duty for a 16-hour-period only despite the threat of terror attack and security alert by the Intelligence Bureau.

BTMC secretary N Dorjee admitted that guards were not deployed in the night for security. "IT was the responsibility of the BMTC guards (unarmed) to handle the night security. It had been going on for decades as arms are not allowed inside the temple," Dorjee said.

"How was the temple without night security when the agreement with the private security agency clearly mentions the round-the clock security duty in the temple? It is a matter of an inquiry," a police official said.

The NIA has interrogated some of these guards.