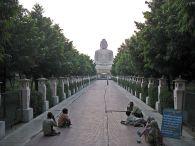 Asserting that there should be no politics on the Bodh Gaya blasts, Bihar Chief Minister Nitish Kumar said Sunday's terror strike is a lesson for everybody, and urged the Centre to take firm steps to intensify the security of the Mahabodhi temple, which is a symbol of faith for crores of followers of Buddhism all over the world.

"I have already written a letter on behalf of the state government. But I would like to appeal to the Government of India and the home ministry that there should be an appropriate security of this temple, which is a symbol of faith for followers of Buddhism all over the world, located in Bihar," he told the media in Patna.

Kumar said the National Investigating
Agency probing the blasts in the temple town should be allowed to reach to a logical conclusion. "Since the probe has been handed over to the NIA, we should allow them to reach to a conclusion. The police was not deployed for internal security of the temple; it was deputed outside as a cover. The internal security was given to an independent security agency by the Bodh Gaya temple management committee," said Kumar.
"Whether it is the Bihar government, the central government or the people of the state, all of them are interested in only one thing that those responsible for this incident should be caught and brought to justice. Secondly, whatever has taken place is a lesson from everyone and we should all plan future arrangements after taking proper lessons from it," he added.