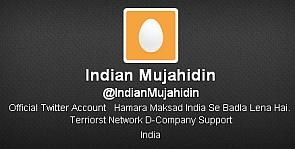 Indian agencies have managed to track the Twitter handle allegedly belonging to the Indian Mujahideen, which claimed responsibility for the Bodh Gaya attack, to Pakistan. Sources tell rediff.com that the handle is being managed under the name @indianmujahideen from Karachi.
A twitter account, purportedly belonging to the terror outfit, had warned that the next target would be Mumbai, prompting the state authorities to tighten security across the city.
The Indian Mujahideen's twitter handle is relatively new and has just two tweets. Sources from the National Investigating Agency sources say they had sought the help of twitter to track down the account.
Hours after Sunday's Bodh Gaya serial blasts, a tweet by @IndianMujahidin -- which claims to be the IM's official Twitter account – said, "9 Dhamake Humne Karay (We carried out the nine blasts)".
The tweet about Mumbai -- dated July 5, two days before the Bihar blasts -- reads, "Hamara Agla Target Mumbai Hai. Rock Sago Toh Rock Lo, 7 days Left (Our next target is Mumbai. Stop us if you can. Seven days left)."
"It appears to be a recently-created handle," says an investigator. The agencies say that it could be a genuine account and being handled by the numerous operatives including tech chief Abdus Subhan who is in Karachi now.
Maharashtra Anti Terrorism Squad official said the initial assessment suggests that the account does not appear genuine but the investigators are not taking the matter lightly. "All the officers of the ATS have been instructed to be alert and city police has been asked to ensure tight security," the official said.
The IM has always believed in making its attacks a big deal by announcing them with a lot of fanfare. Earlier, the outfit used to have a dedicated mailing account and a website.
However, since the past three years it has not used the mail or the website. "The Twitter handle may be a new way of announcing their actions and they appear to have taken a cue out of the Jamaat-ud-Dawa, which sends out veiled messages through its handle," says an investigator.
The NIA would continue to verify if the account is genuine or fake created by mischief mongers in Pakistan. However, for now, the onus falls upon the Pakistan government to find these men as it falls under their jurisdiction.
The Pakistan establishment does in fact, has a formidable team in the form of the Pakistan Cyber Army which operates the web for subversive activities. It had played an important role in the Assam exodus.
The IM too, is technically sound and is capable of using the web space to its advantage. According to sources, it specialises in hacking into wifi networks and bouncing mails off foreign servers.
With inputs from PTI