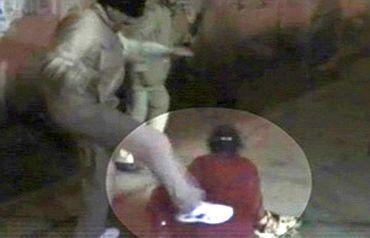 In a brutal action, policemen slapped, kicked and cane-charged a group of women protesting on the national highway in Firozabad in Uttar Pradesh against the death of two persons in a mishap.
The protestors had on Monday night gathered at Subhash crossing under Uttar police station area and squatted on the National Highway after a rumour that the driver of the tractor involved in the road mishap had been let off, sources said.
Police officials, including SHO Prakash Yadav were then caught on camera slapping, kicking and baton-charging the protesting women, while trying to clear the road.
As the outrage over the police action mounted, Yadav, a key figure in the brutality was put under suspension along with three other policemen -- Sanjiv Kumar, Neeraj and Giriraj -- posted at Rasulpur police station.

Superintendent of Police Rakesh Singh earlier said police used force to disperse the protesters who indulged in stone-pelting during the late hours amidst heavy fog.