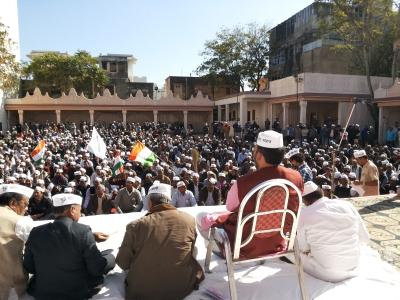 Delhi's ruling party is all set to tackle the parliamentary polls in Rajasthan, says Shahnawaz Akhtar
After its Delhi counterpart's stellar performance in the assembly polls, the Aam Aadmi Party's Rajasthan unit is trying to make hay while the sun shines.
The state is located close enough to Delhi to feel the reverberations of Arvind Kejriwal's victory march. Rajasthan, like Delhi, has traditionally witnessed a close contest between the Bharatiya Janata Party and the Congress every five years.
Like it did in Delhi, the Congress performed dismally in this year's assembly polls in the desert state.
As many as 15,000 members -- including leaders from various political parties, doctors, engineers, non-resident Indians, government officials and academicians -- have joined the party in the last 20 days.
"Our main priority is not the quantity but the quality of people. For us, the consideration is whether they fulfill the criteria of the party. Among the prominent names who have joined the AAP recently, we can only reveal a few names at this juncture like Giriraj Kishor Sharma, who was earlier with the Congress and the Lok Janshakti Party, Rajendra Singhara of the BJP and Sushil Sharma of the Congress," informed Mulkraj Singh, a senior leader of the AAP.
In Jaipur, over 5,000 members have joined the AAP since December 8.
But Singh alleged that the party's burgeoning popularity was having some not-so-desirable effects too.
"Intelligence officials are now keeping a tab on the party's activities. IB officials also inquire on a daily basis how many members have joined our party. The influx of new members has made both the Congress and the BJP restless," claimed Singh.
In a party meeting held on Sunday in Jaipur, AAP leaders decided to fight from all 25 Lok Sabha seats in the state. The party is also preparing ten-member teams to campaign in all the 40,000 booths in Rajasthan.
"For us, fielding a good candidate is more important than simply propping up candidates in all constituencies. If we get good candidates, we will fight from all constituencies," said Ashok Jain, state convener of the AAP.
The Congress had won 20 of the 25 Lok Sabha seats in the state in the 2009 Lok Sabha polls.
But its electoral debacle this year will make it easier for the AAP to gain a foothold in the state's altered political scenario.
The BJP, which has swept to power in the assembly elections with Chief Minister Vasundhara Raje at the helm, is also drawing up a battle plan to fight the parliamentary polls.
The AAP, with its new-found popularity, may give Raje and her party a tough fight in the 2014 polls.
Image: A meeting of the Aam Aadmi Party in Rajasthan