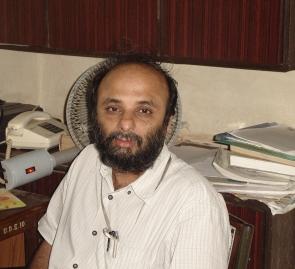 Students and teachers unions have found support in the Aam Aadmi Party in their agitation at the Mumbai University in support of a suspended professor.
The university has been rocked by protests from students and professors who have condemned Vice Chancellor Rajan Velukar's decision to suspend Prof Neeraj Hatekar on Saturday.
AAP leader Mayank Gandhi on Wednesday visited the protestors to show support at the varsity's Kalina campus in Santa Cruz.
Gandhi said, "This is a case of corruption. Hatekar was suspended for raising various issues pertaining to administration of the university and he was suspended without being issued a show cause notice."
The suspension order of Prof Hatekar, a fellow of Cambridge University, said the varsity's management council had taken serious note of Hatekar's "misinformation" to newspapers and his holding a press conference.
Hatekar is also convenor of the joint action committee for Improvement of Higher Education in Maharashtra, a body that has protested the lack of transparency in the appointment of the vice-chancellor.
Hatekar and others had earlier claimed that Velukar's academic and publication records did not meet the qualification criteria for the post.
VC Velukar had said that law granted him the power to suspend Hatekar and that he had ordered a departmental inquiry against him. However, Hatekar said his suspension was arbitrary, illegal and he would legally challenge the decision. He also charged that the university was administered by those who were not academically qualified.
"There are set rules for suspension and management council has to pass a resolution. However, Vice Chancellor Velukar in the suspension order says management council has taken serious view of my press conference and was suspending me. The vice chancellor has no powers to suspend," he added.
Since on Tuesday, students and teachers staged protests against the suspension. A signature campaign was initiated and the department of economics also submitted a resolution to authorities defending Hatekar's right to free speech.
Students said Hatekar has been struggling for better facilities for student community.
On December 12, 2013, Hatekar had held a press conference in which he had spoken about alleged mismanagement by Velukar.
Meanwhile, AAP's Maharashtra unit demanded that Prof Hatekar be reinstated immediately. "We join the students in their protest on this unlawful and vindictive suspension of an upright academician, who is known for his integrity and academic capabilities, not to mention his popularity among the students," Gandhi later said in a statement.
Prof Hatekar dared to expose the corruption in the department and the result was that he had to face the backlash of the system, the statement said.
It is a subject of deep shame for the university that the VC has been accused of perjury and his action of suspending Prof Hatekar just proves that there must be merit in the accusations, it further mentioned.
AAP demanded that the VC be suspended and an inquiry be constituted against him on all issues raised by Prof Hatekar and others. "We support Professor Hatekar's crusade," Gandhi said, adding that they will not rest till the wrong is corrected.

Image: Prof Neeraj Hatekar
Photograph: Courtesy: Mumbai University