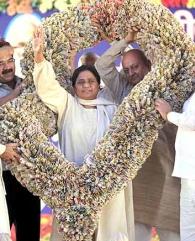 BSP boss known for her over-the-top celebrations, where crores are splurged, has decided to keep it low this year. Did Arvind Kejriwal have a party to play?

More than 3,00,000 people were estimated to have already reached Lucknow for what is being projected as the biggest ever rally to be addressed by Bahujan Samaj Party supremo Mayawati in Lucknow on Wednesday.

Special arrangements have been made in and around the sprawling Rama Bai Ambedlar grounds where the rally will be held to mark the 59th birthday of Mayawati. She is expected to sound the bugle for launching her party's election campaign in Uttar Pradesh.
So what's different this year? Mayawati's birthday will be observed sans the traditional extravaganza. "It is going to be a simple affair," declared BSP National General Secretary Satish Chandra Misra.

Asked if it was the Aam Aadmi Party effect that had prompted the BSP chief to shun the usual grandeur, he said, "No, Behenji had decided to keep it simple in view of the sufferings of the riot victims in Muzaffarnagar relief camps. We are one party which has nothing to fear from the AAP."

He went on to add, "Behenji's birthday will be marked by a distribution of fruits to patients in hospitals in each district of the state."

According to Misra, they are "expecting a gathering of about one million at tomorrow (Wednesday's) rally on Behenji's birthday."

"Never before have as many people converged on this ground that was constructed for public rallies. And let me tell you no political party other than the BSP has been able to draw enough crowd to put up a packed show here."
"Other political parties usually shy away from holding their rallies on this ground simply because the empty space becomes very embarrassing for them," he added.
Meanwhile, crowds continue to pour in at the rally ground around which tents have been erected by BSP organisers to provide shelter to them. New quilts and thick blankets have been provided to every volunteer arriving not only from different parts of the state but also from across the country. As many as 19 special trains have been booked by the party to ferry its volunteers even from remote corners of the country.
The surroundings of the rally ground have turned into a mini township painted in BSP's blue -- banners, buntings, hoardings and giant-size cutouts of Mayawati, her mentor and BSP founder Kanshi Ram along with the party's key ideologue Babasaheb Ambedkar.
Mayawati is expected to talk about the achievements of her last government (2007 – 2012). She will emphasise on how her party was no longer limited to focusing on Dalits alone. "Instead, she will emphasise how it had taken into its fold all communities without any discrimination," said Misra.
Apart from displaying her strength through attendance, which is expected to beat the mammoth crowds at BJP prime ministerial nominee Narendra Modi's five rallies in the state, Mayawati's objective is to exhort her party rank and file to strive and ensure that its tally goes far beyond the 2009 Lok Sabha score of 19.

Image: BSP chief Mayawati will hold a mega rally in Lucknow on Wednesday