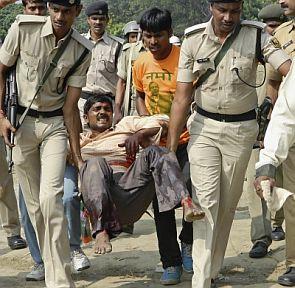 The Patna operation, allegedly carried out by the Indian Mujahideen, is said to have cost the terror outfit Rs 40,000, National Investigation Agency sources told rediff.com.
The funds were allegedly raised by an operative from Ranchi named Uzair Ahmed.
The National Investigation Agency, which picked up this operative based on the leads provided by Patna blasts accused Tabish, believes that he raised the money through robberies and by collecting funds in the name of a pseudo organisation.

The IM is said to have spent Rs 10,000 on explosives while the rest of the money was used to pay operatives and conducting a survey of the areas in which the bombs were planted.
The NIA says that they are trying to find out whether Uzair also played a part in the Bodh Gaya attack.

The NIA feels that there were more 10 persons involved in this attack; the hunt is on for them. The NIA is also planning on questioning Yasin Bhatkal and Asadullah Aktar once again to get more leads on the alleged mastermind, Tehsin.