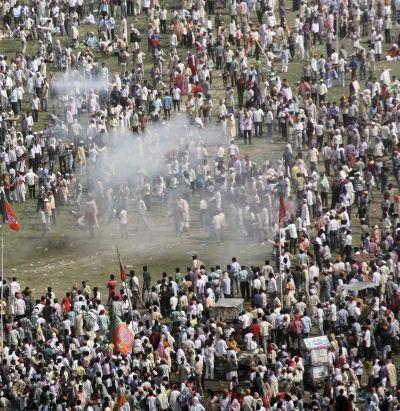 A serial blast suspect Arshad Ahmad has been picked up for questioning from a village in Bihar's East Champaran district, police said on Wednesday.
Acting on a tip-off by the Patna police and the National Investigation Agency, the local police picked up Ahmad from Alauli villge and handed him over to an investigation team from Patna, Superintendent of Police Vinay Kumar said.
Ahmad, said to be an associate of the serial blasts' prime accused Imtiyaz Ansari, an alleged Indian Mujahideen operative, was then taken to the state capital by a Patna police team for questioning, Patna's Superintendent of Police (city) Jayant Kant said.
The suspect was presently in NIA's custody and being interrogated about his alleged role in the serial blasts, he said.
Ahmad was rounded up for questioning in connection with the Patna serial blasts after his phone figured in a list of contacts of Ansari, who was arrested soon after the first blast at a toilet on platform number 10 at the railway junction, police said.
The accused, who runs a coaching institute in Ranchi, is said to have close association with Ansari, who too hails from the same place, the sources said.
The SP said Imtiyaz Ansari and Ainul alias Tarique had been arrested in connectionn with the blasts while three persons, including Ahmad, had been detained for interrogation.