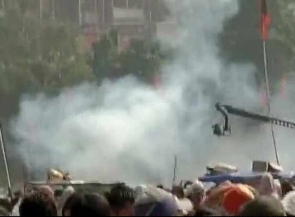 The probe into Sunday's serial blasts near a political rally addressed by the Bharatiya Janata Party prime ministerial candidate Narendra Modi has been handed over to National Investigation Agency following recommendation from the Bihar government.
This was stated by Union Home Minister Sushilkumar Shinde after Bihar Chief Minister Nitish Kumar met him in North Block for 30 minutes during which he briefed him on the law-and-order situation in the state.
Bihar, where terror struck in July at Bodh Gaya followed by Sunday's blast in which six were killed and over 80 people injured, also sought Centre's help in establishing an anti-terror squad in the state.
"We have discussed the issue (blasts). We have to strengthen our anti-terror capabilities as Bihar has not witnessed any such major incident. But we need the Centre's help. We need force and equipment. We have also decided to set up an anti-terror squad," Kumar told reporters.
Making it clear that his government had no Intelligence input about possible terror strike, the chief minister said that the Bihar police already arrested one person involved in the explosions when he was trying to flee the Patna railway station.
"From his interrogation, we got several leads. Now the investigation is going on. Since Bihar Police does not have the database of terrorists and the NIA has, we have decided to
hand over the case to the NIA following a recommendation of the state deputy general of police. The Bihar police will offer all help in the probe," he said.