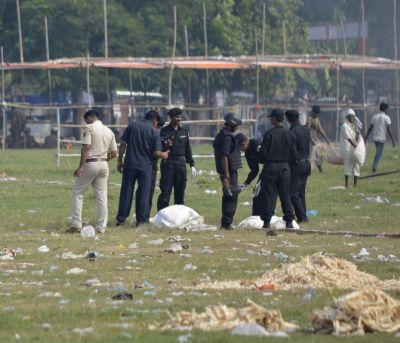 Five more bombs were found on Tuesday during searches at the sprawling Gandhi Maidan in Patna, where another political rally is scheduled for Wednesday, after Sunday's multiple blasts at a BJP meeting in which six persons were killed and 82 injured.
A bomb each was found near the Police Information Room, in children's park and a place opposite the Magadh Mahila College, all on Gandhi Maidan, Deputy Superintendent of Police (City) Manoj Kumar Tiwari said.
The three bombs were recovered within a couple of hours of each other, he said.
Late on Tuesday evening, two more bombs were recovered from the park and the place opposite the college, police sources said.
Two bombs were defused by the bomb disposal squads of the NSG while the third one was being defused, Superintendent of Police (City) Jayant Kant said.
The seizure was made ahead of Wednesday's rally at the maidan by CPI(M-L) Liberation.
Seven blasts had rocked the Maidan and surrounding areas on Sunday to coincide with the 'Hunkar' rally addressed by BJP prime ministerial candidate Narendra Modi.
Meanwhile, Jharkhand police on Tuesday claimed they have got "valuable leads" into the case and six persons are under detention for interrogation in connection with the incident.
"We have got valuable leads into the Patna blasts. We have detained six persons," Director General of Police Rajeev Kumar told reporters in Ranchi.
He, however, refused to share details as to when and from where the six persons were detained saying the team of the National Investigation Agency is in Ranchi investigating the blasts.
"Now we are not in a position to divulge any other details...We have alerted all the SP's (superintendents of police) to keep a strong vigil on the movement and activities of anti-national elements like the Indian Mujahideen. We are determined to finish this IM module from Jharkhand".
Jharkhand police are extending the fullest co-operation to both NIA and Bihar police to nab the IM activists, the DGP, who was here to chair a meeting attended by several senior police officials, added.
Image: NSG commandos inspect the site of a bomb blast at Patna's Gandhi Maidan.
Photograph: Krishna Murari Kishan/Reuters