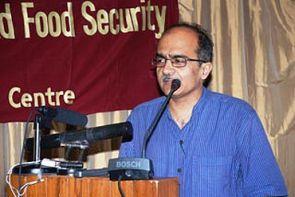 Aam Aadmi Party leader Prashant Bhushan had made no reference to referendum on security forces in Naxal-hit areas, the party's leader Yogendra Yadav said.
"He (Bhushan) made no reference to referendum on security forces," Aam Aadmi Party leader said when asked about BJP's criticism of Bhushan for reportedly saying that there should be a referendum for deployment of security forces against Maoists in the affected areas.
Calling it a "completely mistaken report," Yadav said Bhushan had merely replied to a question on situation in Chhattisgarh and had made no mention of referendum.
"This is a completely mistaken report. Prashant was asked by a reporter about the situation in Chhattisgarh, to which he said that because land of tribals was being taken without their consent, this is what is creating the extremist situation in those areas," he said.
Asking media to report "what we say and not what they wish us to say," he said, "I am astonished how these things get completely distorted.
"He (Bhushan) made no reference to referendum on security forces, this was neither the question nor the answer," Yadav said.
After stoking controversy with his remarks on Kashmir, Bhushan had on Sunday drawn flak from BJP for his comments on Naxal-hit areas.
Bhushan, whose demand for a referendum on deployment of security forces in Kashmir had raised hackles with his party AAP also distancing itself from it, had on Saturday reportedly called for a vote on the issue of deploying central paramilitary forces in Naxal-infested areas.
When asked about BJP's Prime Ministerial candidate Narendra Modi's comments on AAP, Yadav said he was happy that the Gujarat Chief Minister was getting the time to pay attention to their outfit.
"But we have not been able to get time (to react to what he said) as our attention is on one thing, which is how to end corruption in this country and empower common people. We are focused on this," he said.