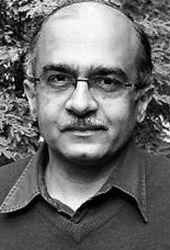 A press conference addressed by Aam Aadmi Party leader Prashant Bhushan was on Monday disrupted by a man in New Delhi, protesting his comment on presence of army in Jammu and Kashmir.
The man identified as Vishnu Gupta shouted slogans against the noted lawyer and called him a "traitor" for his recent comments relating to army's presence in Kashmir.
TV channels reported that Gupta belonged to the same Hindu Raksha Dal that had attacked the Aam Aadmi Party's Kaushambi office in Ghaziabad last week. The national convenor of the Hindu Raksha Dal and 12 others have been arrested in connection with the incident.
Bhushan last week had said that deployment of military in Jammu and Kashmir should be undertaken with the consent of people of the state.
His comment was slammed by parties across the political divide. Aam Aadmi Party chief Arvind Kejriwal had also disapproved of Bhushan's comments.
The lawyer had later said his comments were "twisted" by the media.
Meanwhile, CNN IBN editor-in-chief Rajdeep Sardesai tweeted soon after the incident, "same idiot of "Hindu Raksha manch" disrupts Bhushan presser for his 15 mins of fame. time for tv cameras to stop showing sponsored violence".
Image: Prashant Bhushan