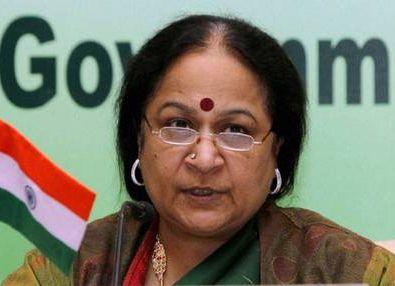 The Congress on Monday termed Narendra Modi's "Jayanthi tax" barb against former environment minister Jayanthi Natarajan as "in very bad taste", saying the Bharatiya Janata Party's prime ministerial candidate "only knows to abuse".
"Modi's comment on Jayanthi Natarajan is in a very bad taste. (It) should be condemned. He only knows to abuse but doesn't give his vision," party General Secretary Digvijay Singh said on Twitter.
Modi had on Sunday made a reference to the removal of Natarajan from the environment ministry during his rally in Panaji, Goa. He had said for the first time he had heard of "Jayanthi tax", apparently referring to swirling allegations during her tenure.
"There was a storm over the environment ministry and all files were blocked. No file was moving without money. We had heard of income, sales and excise taxes but for the first time, we heard about a Jayanthi tax in Delhi without which nothing was moving."
"Till the time that was not paid, files could not be moved in the environment ministry. I have never experienced it myself as I never need it but we are shocked on this. What kind of systems have they developed," he had said.
Natarajan denied allegations levelled against her by Modi, saying the BJP leader was trying to target her as she has been very vocal against him in the past and had blocked two of his projects.
"It is a targeted personal attack. I totally deny what he says. It is completely baseless. There are major green violations in Gujarat. He was destroying the environment. I was opposed to his destruction of environment," Natarajan had said on Sunday.

Image: Former environment minister Jayanthi Natarajan