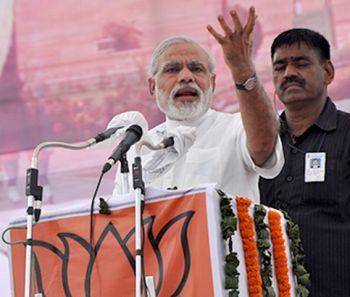 Narendra Modi on Thursday trained his guns on Sonia Gandhi, saying she should speak up on coal and 2G spectrum scams as he alleged that the Congress was "misleading" the country on issues like development, inflation and employment generation.
Addressing an election rally in Kanker, Chhattisgarh, soon after Sonia Gandhi's public meeting in Kondagaon, he took a dig at her for saying that Congress believes in "doing work silently rather than speaking" and said the scams in coal block allocation and 2G spectrum were examples in this regard.
The Bharatiya Janata Party's prime ministerial candidate also attacked Congress vice president Rahul Gandhi for his comments that "poverty is a state of mind", saying he was "mocking" at the poor because he does not understand the pain of poverty.
Addressing Gandhi as "Madam", Modi referred to her comments made about two hours earlier that Congress is a party which "does not speak but only does work".
"You are right, madam. You do everything without saying anything... You (Congress government) did the coal scam without saying anything. In the 2G scam also, you did not say anything but did it... Scams took place beneath the earth, on the earth and in the air without you saying anything," he said.
He said UPA had made promises in run up to the 2009 Lok Sabha polls that it will contain inflation within 100 days of coming to power and create one crore jobs every year.
Contending that these promises were not fulfilled, Modi said, "whatever you say, you do not implement. The nation knows this as well... You say madam that you do everything without saying anything. Whatever you promise, you do not fulfill. Give answers on these."
He said the people earlier used to be befooled by the "false promises but now people awakened to the reality".
Attacking the Planning Commission for its figures that anyone earning Rs 26 a day is above the poverty line, he asked, "How can you eat a stomach-full meal? These are such people who spend Rs 100-200 for a bottle of water in a 5-star hotel. Such people don't have the right to rule this country."
Seeking votes in the name of development, the Gujarat chief minister warned people against falling in the trap of the Congress.
"During elections, the Congress will try and divide people on the basis of religion, caste and community. This is the Congress character to divide society. You got into this Congress trap earlier and voted for them. But today, give your vote for development. BJP has only one dream, dharma and destination -- development," he said, making a fervent appeal to voters to re-elect its government.
Modi also hit out at the ruling party's slogan -- "Congress ka haath, aam aadmi ke saath", and said instead of supporting the common man, it is using its hands in "stealing" money through various scams.
"They are now busy in haath ki safai (stealing)... They did not leave coal or even onions... Don't give Chhattisgarh into such hands," he said, promising a better future for people of the state under BJP rule.
Seeking to strike an emotional chord with the electorate in the Naxal-affected state, Modi said, "Even if I am in Delhi or Gujarat, I can feel your pain."
Accusing the Congress of neglecting the state during the first three years of its formation when it was in power, he said the time has come to "punish the Congress which has ruled the country for the last 60 years but did nothing for the poor and downtrodden".
Modi also promised to bring back the blackmoney stashed away in foreign banks and use every penny for the development and welfare of the poor. He praised the Raman Singh government for initiating speedy development in the state and being the first to introduce the food security scheme. He also lauded Chhattisgarh's sex ratio that was in favour of women.