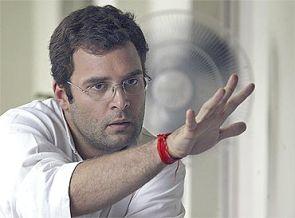 Congress Vice-President Rahul Gandhi warned his party's ministers in Jammu and Kashmir that they could be denied tickets in the next elections if they did not reach out to the people and address their grievances.
"Our ministers are sitting here. They are doing a good job, but there are complaints against them. I want to tell them that you are ministers and MLAs, but this is your party and you have to listen to them (people).
"And if you do not listen to them, then it is your decision, and remember this that when tickets will be distributed (in next elections) you will be at loss. And if you go to people, listen to them and do their work, you will benefit," Rahul told workers at the party headquarters.
He said the workers are the party's "back bone" and respecting them amounted to respecting people of the state.
"They (workers) are our back bone. They fight our battle and whoever the leader -- be that Ambika Soni or Saifuddin Soz -- one has to respect them, because if we do not respect them, we cannot respect the people of Jammu and Kashmir," he said.
Rahul said his entire focus is on making a worker stronger and letting his voice be heard in Delhi.
"For me the most important thing in the party is a worker. There are ministers, MPs or MLAs, but they become so because of the workers. A worker is not there because of a minister.
My entire focus is on the worker...what rights should a worker get and the voice of the worker should be heard in a good manner not only in Srinagar, but in Delhi too.
"And whatever I do, I will do that for making the worker stronger. My focus will be that when the time for ticket distribution comes, our worker should say that he was consulted...the rights of the workers should be implemented," he said.
Rahul asked Congress workers to make the party stronger in the state for their "golden future".
"I am ready to come here as many times you want me to, wherever you want to take me, I will go -- to Jammu, to Kashmir or to Ladakh -- I will go with you. You go to people, you get the voice of people here, make Congress party stronger, you will have a golden future in the state," he said.
"Congress party is moving forward in Jammu and Kashmir, in all the three regions -- Jammu, Kashmir and Ladakh," he said.
He said tickets for the forthcoming elections will be given to those who reach out to the people and fight for their rights.
"Youth and new people have to be brought into the party fold and strong people have to be fielded (in elections). What happens at election time is that the workers reach out to the people, but someone else is fielded. I have said in Madhya Pradesh, Rajasthan and Chhattisgarh that tickets will be given to those who reach out to the people, who fight for them.
Those people will not get the tickets who come from above in helicopters," he said.
Apparently referring to the Congress leaders, Rahul said, "The crowd that is seen at AICC (headquarters in New Delhi) has to be sent here and here they will decide who is to be given tickets after consultations with the party and workers."
He said the party will "continue" to put pressure on the state government for implementing the provisions of the 73rd Amendment pertaining to Panchayati Raj.
"The issue has also been highlighted by the media...We want that elections be held for local bodies and the representatives should get their power, their right and we will continue to put pressure on the government in this regard," he added.