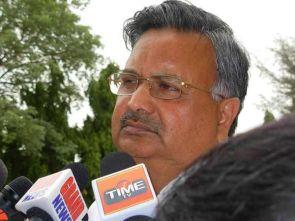 Congress President Sonia Gandhi on Thursday played an emotional card by reminding people of sacrifices of its leaders killed in the Maoist attack in May and accused Chief Minister Raman Singh of shedding "crocodile tears" over it and failing to tackle naxal violence.
Addressing her first election meeting ahead of the first phase of polling in Chhattisgarh on November 11, Gandhi said while her party stood for the legacy of making sacrifices and working for the poor and downtrodden, the BJP made only tall claims and did nothing.
"You all know the security situation in the state. I want to ask all of you here, what kind of government is this? Innocents are being killed in naxal violence.
"This year itself Congress leaders have sacrificed their lives in naxal attacks and we are all very sad about it. We are feeling their loss in a big way today. The chief minister was forced to admit to his government's failure. But, I want to ask you what is the use of shedding crocodile tears.
On May 25, Naxals attacked a convoy of Congress leaders in Jagdalpur district killing the party's senior leader Mahendra Karma and injuring former union minister V C Shukla.
The bodies of PCC chief Nand Kumar Patel and his son were later found in the forests. A former Congress MLA Udya Mudaliyar was also shot dead by the Maoists who attacked the convoy when they were returning from a "Parivartan" rally.
"The Congress has a history of sacrifice, development...and changing lives of the poor and weaker sections and bringing happiness in their lives. We trust people that they will not fall prey to false promises and assurances, but will remember Congress history," Gandhi said.
Holding the state government responsible for poverty in the state, she said while other states showed a decline in poverty, in Chhattisgarh it was on the increase due to the "misrule" of BJP in the last 10 years.
"BJP talks of good governance, but because of it's misgovernance in Chhattisgarh, poverty has increased. There are law and order problems here. What has the Chhattisgarh government done about it?" she asked, saying, "the reality is BJP only talks big, but does nothing."
Gandhi asked what the BJP had given to the people of the state in the last 10 years when there were a lot of expectations in the new state.
She said the Raman Singh government has not done enough and only made "tall claims". She said the Congress government at the Centre has given a lot of funds for development of the state but the pace is very slow.
"In the last 5 years, we have given a lot of funds for development. But, the pace of work on development of roads has been very slow...Apart from fighting the government, our government has come out with a land acquisition act, food security act and various development schemes. But the basic difference between Congress and BJP is -- they only talk big and don't do any work," she said.
Gandhi also touted the MNREGA scheme which provides for 100 days of guaranteed employment to people of the state, including tribals.
Accusing BJP of "divisive" politics, Gandhi said, "while the BJP wants to pit one brother against another, we want to take everybody along and connect people" and urged voters "not to fall in the trap of false promises by anyone" and ensure a Congress government in the state remembering the latter's history and its contribution for the country's development.
Gandhi attacked the Raman Singh government on various fronts, including development, security, women safety and said under it education, water, power, rural development have started going down.