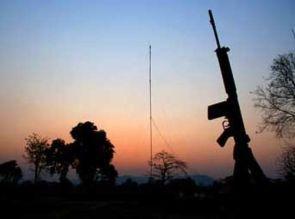 A divided house until recently, Congress is putting up a spirited campaign to checkmate BJP in its erstwhile stronghold of Naxal-dominated Bastar region of Chhattisgarh where the ruling party hopes to cash on its developmental agenda coupled with Chief Minister Raman Singh's clean image in the Assembly elections.
The Maoist-dominated areas of the state are going to polls in first phase of the Assembly elections on November 11 and Congress is battling hard to win back the tribal-dominated region which was once its stronghold and had gone the BJP way in the last two elections.
Singh held a road show across the Bastar district headquarters of Jagdalpur on Tuesday evening as a large number of women lined up along roads with lamps to welcome him while many youth rode in their bikes behind his cavalcade, raising slogans in favour of the "vikas purush" (development man).
"We have done so much and we will do much more. But you have to ensure that people come out and press the EVM in our favour," he told the crowd amid concerns in the region over naxal's threat to villagers to boycott polls.
"He has definitely done a lot for the state. The poor would not be as happy anywhere as they are in Chhattisgarh due to his food and health welfare schemes," Prahlad Gaud, a BJP supporter, said.
Not everybody, however, agrees.
Congress leaders, now seemingly united, are running a campaign highlighting the corruption of cabinet ministers, accused of pocketing commissions and being involved in mine scandals, who have been "shielded" by Singh against any probe.
"Where is the accountability? The Centre has provided the state thousands of crores of rupees for development but they (state government) have misused and swindled it. The state has gone back in development," senior Congress leader and Chhattisgarh Congress Campaign Committee head Motilal Vora alleged.
Vora also led a road show along with another senior Congress leader Mohsina Kidwai and state leaders in Rajnandgaon, the home constituency of Raman Singh.
"Forget about the state, there is hardly any development in the CM's home constituency," he told voters.
To counter BJP's successful scheme of 35 kg of rice for Rs 1 per kg, the party, in its manifesto, has promised the same quantity of rice free of cost and cheaper electricity, promises dismissed as election stunt by Singh.
Congress leaders say it is imperative to target the "myth" of the CM's pro-development image if the party wants to come back to power and there could not be any better place for it than his home constituency.
Hoping for sympathy votes, it has fielded Alka, widow of former MLA Uday Mudaliar, who was killed on May 25 in the Naxal attack on the party's "parivartan yatra", which had wiped out its top state leadership, including PCC President Nand Kumar Patel.
Opposition leaders allege a politician-contractor cabal rules the state and common people have to pay commission for getting any work done.
"Do they (Congress) have any real issue? Our government has done a lot for the welfare of the poor and improved the infrastructure. You can accuse anybody of corruption but nothing serious is there," local BJP leader Sudhir Sharma says.
With Bastar, having 12 assembly seats, proving to be a key to power, star campaigners of both the parties are making last-ditch efforts to woo voters.
Congress President Sonia Gandhi and Vice-President Rahul Gandhi are scheduled to address a number of rallies in the state on Thursday and Friday while BJP prime ministerial candidate Narendra Modi will make a whirlwind tour of the region.
BJP had won nine and 11 seats out of the total 12 seats in Bastar in 2003 and 2008 elections respectively, which helped it gain a clear majority in the 90-seat Assembly both the time.