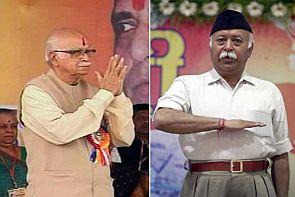 Rashtriya Swayamsewak Sangh chief Mohan Bhagwat is expected to meet senior Bharatiya Janata Party (BJP) leader LK Advani in New Delhi on Wednesday.
Bhagwat, who had played a significant role in asking Advani to withdraw his resignation from key posts of the BJP last week, has decided to meet the latter despite him voicing grievance over Gujarat Chief Minister Narendra Modi's elevation as the BJP's 2014 poll panel chief.
Bhagwat's meeting with Advani comes a day after the party patriarch had an hour long meeting with Modi.
According to television reports, at the meeting that lasted 45 minutes, the Gujarat chief minister reportedly "sought Advani's blessings" while promising to consult senior leaders in his new role.
Wednesday's meeting will also take place two days after the Janata Dal-United broke its 17-year-old alliance with BJP, citing Modi's elevation as one of the reasons for doing so.
Addressing a press conference in Patna, JD-U president Sharad Yadav said that the developments in the last six months had made things difficult for them to work together with the BJP.
"We were in the NDA for 17 years and we had a national agenda that was formed with Atalji and Advaniji. We have tried to stick to the framework of the NDA but for the past 6-7 months situation has changed," he said.
"Any alliance runs by friendship and trust -- we tried our best to run the alliance," he added
JD-U has 118 MLAs in 243-member Bihar assembly and needs the support of only four more MLAs to have a majority.
There are 91 MLAS from BJP, 21 from RJD and one each from LJP and CPI in the state assembly.