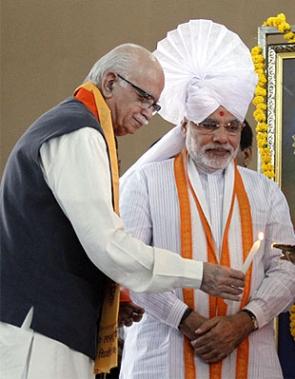 Gujarat Chief Minister Narendra Modi on Tuesday met Bharatiya Janata Party patriarch L K Advani.
This is his first interaction with the leader since being anointed the party's poll campaign committee chief that led to the split in the National Democratic Alliance.
The meetingcomes days after Advani showed his displeasure at being sidelined over the Modi issue by resigning from three key party posts.
He later withdrew his resignation following a telephonic talk with Rashtriya Swayamsevak Sangh chief Mohan Bhagwat and persuasion by BJP leaders.
Sources close to Advani told PTI that the two leaders had a "good meeting".
Modi, who drove down to Advani's residence at Prithviraj Road here, spent nearly an hour with the BJP patriarch and left without meeting the media.
The two leaders discussed a range of issues including the split in the NDA after BJP's old-time ally Janata Dal - United parted ways after an alliance of 17 years, the sources said.
The Gujarat chief minister also spent more than an hour with ailing former prime minister Atal Behari Vajpayee at his residence.
Earlier, Modi also met senior BJP leader Murli Manohar Joshi to express his gratitude on being entrusted with the task of spearheading the party's poll campaign for the 2014 Lok Sabha elections.
"Modiji has come to Delhi to express his gratitude over his recent appointment as chairman of the BJP Campaign Committee at Goa. He has expressed his gratitude and said he is trying to fulfill the responsibility given to him," Joshi later told reporters.
Modi is also expected to meet Bhagwat.
Modi is in Delhi primarily to meet Planning Commission Deputy Chairman Montek Singh Ahluwalia and finalise the state's annual plan.
Image: Gujarat Chief Minister Narendra Modi with BJP leader L K Advani