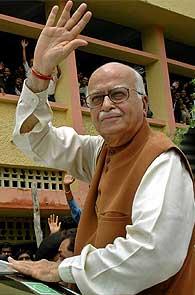 'You have done your best for the party, but the party has moved on. Bow out gracefully, quit politics and work on a one-point agenda -- to bring about an amicable solution to the Ayodhya issue.' Sajid Bhombal pens an open letter to BJP patriarch LK Advani
Dear Advaniji
After the Bharatiya Janata Party's national executive meeting in Goa in 2002, I wrote a letter to Atal Bihari Vajpayee, who was then the prime minister of India.
When the BJP's national executive meeting was on in Goa this year I tweeted: 'Last time when BJP met in Goa I wrote a letter to A B Vajpayee, to whom would I write after this meeting'.
As the Goa meet ended, I really didn't find a reason to write a letter to anyone. And then, the news came about your resignation from all party posts. Since then you have taken back your resignation.
But political analysts have done their job and as per them a few things are clear: 1. The Atal-Advani days in BJP are over; 2. The younger generation of BJP has found a new leader; and 3. That your reservations on the new directions which the BJP has adopted don't count much.
Have you become irrelevant? The question is rhetorical, but this letter is not.
No sir, you are not irrelevant. You are, and here even your staunchest critics will agree, one of the tallest political leaders in contemporary India. Even at this age you are very active and agile. There is no doubt you can contribute a lot to society.
Sir, there is this one issue which has been disturbing India for decades now. You are very familiar with that issue, in fact you were the one who brought it to centrestage like never before.
That is Ayodhya. This is an issue which needs a solution, a solution which will be lasting and will make our country stronger, rather than weaker.
You have been actively associated with the issue, in fact in your own words you have been "one of the principal participants in the Ayodhya movement".
To start with, let me quote from your autobiography, My Country, My Life, to articulate how you see this issue. You start the chapter 'The Ayodhya Movement' with these words: 'I regard the Ayodhya movement as the most decisive transformational event of our political journey. As every student of India's contemporary history will attest to, its impact on our society and polity -- indeed, on our sense of national identity -- has been tremendous. Destiny made me perform a certain pivotal duty in this movement, in the form of the Ram Rath Yatra from Somnath to Ayodhya in 1990. I performed the duty with conviction, sincerity and to the best of my abilities and, in doing so, discovered India anew while rediscovering myself. The Ayodhya mission for me was thus both a time of intense action and intense inner reflection'.
What was the result of your efforts in which you say you put in your best?
That resulted in December 6, 1992; which in your own words was the "saddest day" in your life. You say further: 'I have seldom felt as dejected and downcast as I felt that day', even though, as you have stated in your book, the same development created a 'sense of elation' in some leaders of the movement with whom you clearly say you didn't agree.
Why did things turn out that way? This is what you write:
'The progress of human history rarely follows a linear path. And mass movements, which are often the engines of historical changes, seldom unfold entirely according to a predetermined script'.
So in other words what you are saying is the Ayodhya movement, which you started in the late 1980s and carried out till that fateful day in 1992, didn't bring out the necessary results, but only brought an ugly end to the movement. I couldn't agree more.
Since then what has been the progress on an issue which was so dear to your heart? How should this issue be addressed now?
This is what you write: 'As one of the principal participants in the Ayodhya movement, it had been my endeavour throughout the six years of NDA rule to see how the dispute could be resolved speedily and peacefully. The three options for dispute-resolution were obvious: 1) Legislation; 2) Judicial verdict; and 3) Amicable settlement between representatives of the Hindu and Muslim communities. After a thorough review of both the political and judicial aspects of Ayodhya issue, I came to the conclusion that the best path to follow was the last option'.
At the end of the chapter you write: 'I fervently hope that Ayodhya mission will be completed through the joint effort of Hindus and Muslims, thereby writing a new chapter in mutual reconciliation and national integration'.
I agree with you completely, that there should be an amicable settlement between the two communities, and I am sure most Indians are of the same opinion.
The only question is, how does one go about it?
Who are these 'representatives' of the Hindu and Muslim communities that you refer to? If we consider religious leaders as 'representative', we are missing the point. Depending on the Muslim or Hindu leadership is like shooting arrows into thin air. It is not the Muslim or Hindu leadership which has failed. They are quite successful in holding the nation to ransom. What has failed is our political leadership.
A leadership needs a mandate from the people. The religious leadership does not have a mandate, and cannot have a mandate. In a democracy, only the political leaders have a mandate. And that is how it should be.
And that is why it is the political leadership of the country which has to take the lead in working towards a solution. But no one, not even from your own party, of whom you were the undisputed leader till recently, has done anything positive on this.
Someone needs to take the lead and actively work among the various political parties to work out an amicable solution to this very critical issue.
So here I go out of my way and risk offering you an unsolicited suggestion.
You have done your best for the party, but the party has moved on. Bow out gracefully, quit politics and work on a one-point agenda -- to bring about an amicable solution to the Ayodhya issue.
But why you, you ask?
1. Because you are the architect of the movement.
2. You have tremendous goodwill among Hindus, who know your commitment to the cause.
3. Since 1992 you have interacted with Muslims in various capacities. As the deputy prime minister you have been, as I wrote to Vajpayeeji in 2002, privileged to have led the largest and second largest number of followers of two of the greatest religions of the world.
4. You know the politics of Ayodhya, inside out.
5. Considering your passion for the issue, I am sure you must have interacted with a lot of people from both communities to have a definitive knowledge about the dos and don'ts of negotiations. You can surely use that to convince political leaders on how to go about finding a solution.
6. You must have come across many people from the Muslim community who can help bring about the right atmosphere for an honest debate.
7. I am sure no one realises this more than you, that if this issue is allowed to fester, it has the potential to lead to terrible days in our nation's life.
But why do I think you can do this only by quitting politics?
This is because people are fed up of the cynical politics played by both sides on this issue. A non-political pressure group which works towards an amicable solution will have more credibility in the eyes of the people.
Many amicable solutions have been suggested by well-meaning folk from both the communities. These need to be seriously taken up by political leaders, and a strong non-political platform will prod them to get going on the job.
If you lead this movement, sir, you may be in for a surprise. Maybe then your hope, 'that the Ayodhya mission will be completed through the joint effort of Hindus and Muslims, thereby writing a new chapter in mutual reconciliation and national integration', will be fulfilled.
And the Ayodhya movement will give you something more than just the 'darkest day in your life'.
Yours sincerely
An Indian with hope