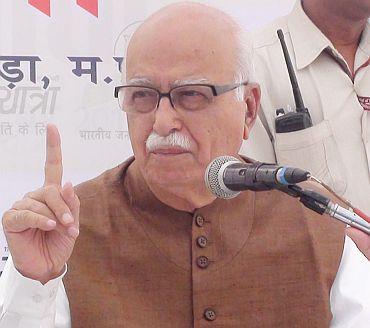 Senior Bharatiya Janata Party leader L K Advani on Monday for the first time targeted Bihar Chief Minister Nitish Kumar, who is considered close to him, by saying that ongoing Lok Sabha polls outcome will prove the impact of the Janata Dal-United's decision to end its alliance with the BJP.

"We, the BJP never dump or end friendships with any one. Nitish's JD-U was part of BJP led National Democratic Alliance for years, but now that Nitish is contesting the polls alone, the poll outcome will prove his stand after he ended the friendship," Advani said in his address at election meetings in Banka and Katihar Lok Sabha seats.

The JD-U has ended its 17-year-old alliance with the BJP in June 2013 over rise of Narendra Modi in the BJP-led NDA. Advani said that former Prime Minister Atal Bihari Vajpayee's six years of rule was better than the long rule of Congress's prime ministers -- Jawahar Lal Nehru and Indira Gandhi in term of development of the country.
Advani said that Nehru and Indira developed the country at the cost of the country., During Nehru's rule ,his biggest mistake was the defeat at the hands of China and the Emergency imposed by Indira was a historic blunder. He said current Prime Minister Manmohan Singh's rule will be known only for scams.

"Vajpayee's tenure as PM was the best ever," Advani said, while addressing election meetings in Bihar's Banka and Katihar parliamentary constituencies.

Advani, who visited Bihar for the first time to campaign for BJP candidates during the ongoing Lok Sabha polls, did not directly target the Bihar chief minister, who is considered close to him. "The BJP has declared Narendra Modi as its PM candidate, but Congress failed to announced their candidate," Advani said.
After Modi and party president Rajnath Singh, Advani is the BJP's third star campaigner in Bihar.