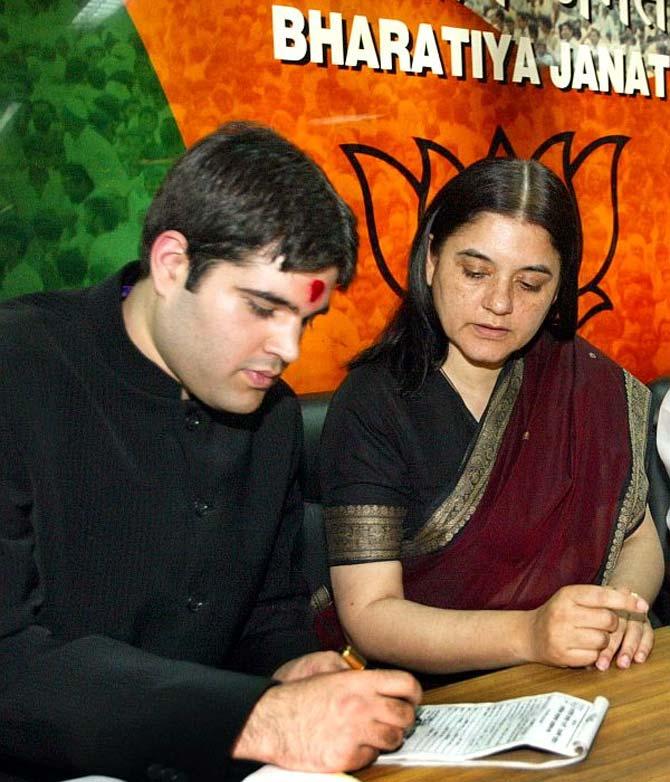 Varun Gandhi contesting from the Bharatiya Janata Party and describing the seat as his late father Sanjay Gandhi's karambhoomi is seen as a comedy of errors by his opponent Amita Singh of the Congress, who asserts that while bringing in these emotions, he forgets that his father was a Congressman.
"If Varun Gandhi is telling people that he has come to his father's karambhoomi, let the young man know that this is not his father's karambhoomi… His father's karambhoomi is Amethi," Singh said in a PTI interview.
"While bringing in these emotions, why does he forget that his father was a Congressman? He is contradictory. He is on a BJP ticket talking to people about his father and also he left a seat he won by over 3 lakh votes. I think it's a comedy of errors," she told PTI.
She added, "How can you speak both sides? Here you are not ready to take the name of Modi and the BJP but you are praising Rahul Gandhi. Where do you stand?"
As campaigning for the May 7 polls gathers steam, old relationships rupture and Amita, known as Raani Sahiba, is facing questions as to why she is standing against Varun, who her husband Sanjay Singh -- the Raja Sahab of Sultanpur -- once had had been close friends with and an associate of Varun's father.
Amita is fighting her first parliamentary election from Sultanpur after her husband, also the sitting MP, was nominated as a Rajya Sabha member from Assam a few months ago.
Asked why she is contesting elections against someone who she called her 'nephew', she said, "He will remain a nephew. The point is that he has come to our turf. Why does he want to leave his seat Pilibhit, which he won by a margin of 3 lakh and which his mother has won six times in the past?"
Sanjay Singh claimed that Varun seeking votes in the name of his father and family will in fact be helping the Congress. "People of Sultanpur are asking if Varun Gandhi wants to realise the dream of Sanjay Gandhi and Indira Gandhi then why should they vote for the Congress via the BJP? Why not directly vote for the Congress? This is helping us," he said.
Though the couple claims that the Congress is winning the seat, Varun has managed to create quite a stir in the constituency where the Nehru-Gandhi family still evokes awe.
Asked if any other Gandhi members would be campaigning in the constituency besides Rahul Gandhi, who held a roadshow last Saturday, she added, "Certain things are family related. If they think it is appropriate, they will come. If not, they won't. But when the BJP candidate himself sings paeans of our leader Rahul Gandhi, what is the problem?"
Amita, exuding confidence, further went on to say, "I am a sportsperson and begin with a never-say-die attitude. I don't look at things in terms of waves or atmosphere. My confidence lies in my own work."
Sanjay Singh, one-time friend of Varun, added, "I feel we are not fighting against the Gandhi family but a BJP candidate, whose party is fighting against Sonia and Rahul Gandhi. Hence, the party is more important that the family. Varun is a BJP candidate and BJP's message is that it wants to make free India of the Congress. I believe that the candidate of that party will also have a similar thinking and has role in realising the BJP's dream."
Sultanpur is one of the 80 Lok Sabha seats from Uttar Pradesh and consists of over 14 lakh voters. Besides Singh and Gandhi, Pawan Pandey from the Bahujan Samaj Party and Shakeel Ahmed from the Samajwadi Party are also vying for the seat.