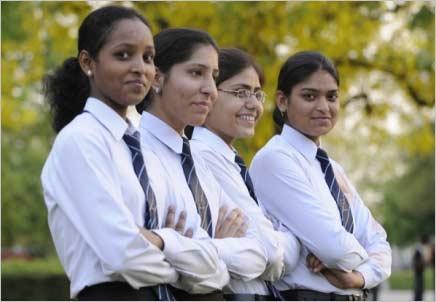 2014 will be a watershed election. Much is at stake and much needs to be changed. Women need their voice to be heard and they need representation with real power, says Sunanda Vashist.
It is no hidden secret that 2014 general elections will mark a turning point for India. The choice between more of the same or complete departure from the past has never been so stark in the 66 year long history of independent India. What does this high stakes election mean for one half of the electorate, the women of India?
Women constitute half the population, yet their representation in the political arena is not equal to men. They are poorly represented in the various governance and decision making bodies. Empty rhetoric has hardly translated into increased representation of women in politics. Even when there is representation most of the times it does not necessarily equate to power or decision making capabilities.
However, 2014 seems to throw up a different scenario. Statistics indicate that as literacy gap between men and women narrows down; more women are seeking jobs, looking for secure future, better career and better quality of lives for their families. The Delhi gang-rape case brought the security of women to the forefront. Crimes against women finally got the attention and shook the establishment. Women demanded answers and sought real intervention from the government and not just lip service.
It was heartening to see many men join women in their protests and support them in raising their genuine demands. I believe that Delhi, the bastion of the Congress, developed serious cracks the day Sheila Dikshit, failed to contain the Delhi protests, or communicate with the protestors. Women have a long way to go, but they have certainly taken baby steps in demanding space in political narrative.
Every political party today hoping to win elections in India must seriously consider the 'woman vote'. It is significant to note that Congress party has given us the only woman prime minister so far, the party itself for last decade has been led by a woman, yet very little has been done in terms of empowerment of women. This punctures the myth that women in consequential positions will necessarily legislate women-centric laws or will work for equality of genders.
In a party where top posts are reserved for the family members and the party structure is such that loyalty is rewarded more than merit, the Congress can offer very little to anyone; least of all women, within political space and in its governance. Most of its policies are visualised to keep the family in control and kill meritocracy. At the moment the Congress certainly seems to be a misfit for every individual with aspiration and particularly for women who are looking for opportunities.
The other national party, the Bharatiya Janata Party stands in contrast to the Congress where no one family controls the party. Many small regional parties have copied the Congress and remain family run enterprises. A dispassionate analysis shows that all political parties have fared poorly in enabling representation of women within the party hierarchy and directly confronting issues specific to women.
Compared to all parties however, the BJP certainly has made genuine efforts to make women centerpiece of their governance and include them in decision-making roles. Some of the prominent voices of BJP today are women. Sushma Swaraj, Vasundhara Raje Scindia, Nirmala Sitharaman, Smriti Irani, Meenakshi Lekhi and many others occupy important positions within the organisation and have risen the ranks over the years solely based on merit and their capability.
The BJP was the first political party to enforce 33 per cent reservation for women within its organisation. The BJP also has a separate women's wing called Mahila Morcha dedicated to addressing real issues faced by women. Yet the nagging perception that the BJP is a patriarchal party with regressive ideas persists. The perception is in stark contrast to what the party actually stands for and what its vision is for women.
When I put this question to BJP national spokesperson Sitharaman, she said she is completely boggled when she is asked this. In her long association with the party, Sitharaman says she has not come across even one instance where she has felt that she was discriminated against because of her gender. She proudly says that she is happy that she chose the BJP and the BJP chose her because an independent woman like her with a mind of her own and without a bahu or beti tag would not have survived in any other party.
Smriti Irani, a BJP vice-president, echoes similar sentiment. She says the BJP recognises and promotes only merit. A quick glance at biographical sketches of prominent women in the BJP's hierarchy confirms this. None of the women are at the position they are because of their family ties. Personal capability and motivation seems to be the only force driving these women and there seems sufficient encouragement by the party to perform their best.
I asked Irani the reason for the perception especially among urban educated women that the BJP is a patriarchal party and she attributed it to lack of awareness. She said many who research, work or volunteer with the party soon realise that the BJP far from being patriarchal is in reality the only party that treats women as individual voices and allows them to grow.
Sitharaman says that she has been given tough assignments in her political career and she has seen no stereotyping within the party. Sitharaman was recently deputed on a fact finding mission to Tamil Nadu where some BJP workers including Tamil Nadu General Secretary V Ramesh were brutally hacked to death. Sitharaman says 'If the BJP was really patriarchal and male dominated, do you think I would have been sent on a mission that was not particularly very safe?'
Sitharaman works extensively in the north-east trying to expand the BJP's footprint in those states. This is no glamorous assignment and OB vans rarely find their way to the north-eastern states. There are no easy or quick rewards and yet Sitharaman has been assigned this task and she reminds me with a laugh that no slack is cut to her because she is a woman.
Sitharaman and Irani both talk enthusiastically about how the BJP state governments have worked very diligently to come up with schemes that are specifically targeted towards women. The Madhya Pradesh government came up with hugely successful Ladli Laxmi Yojana which was initiated by Chief Minister Shivraj Singh Chauhan. Aimed primarily to encourage education amongst girls, Laadli Laxmi Yojana has been implemented by many states now. Similarly Kanyadaan, Gaon ki beti and many incentives like giving free text books and uniforms to rural girls have gone a long way to improve the condition of women and change the mindsets towards them.
I find that increasing financial literacy among women has been a priority for the BJP for some time. Irani particularly points out to Mission Mangalam project as a great example of that. Under this project, the Gujarat government has successfully integrated self help groups or sakhi mandals into a value chain of investors. Around 24 lakh women are currently active under 2 lakh sakhi mandals and are managing funds to the tune of Rs 1,000 crore through bank linkages. The Gujarat Livelihood Promotion Company works through strategic partnership between large industries and sakhi mandals through decentralised micro enterprise ventures.
The National Commission for Women was a really vibrant and independent body during the National Democratic Alliance rule. As the Congress has successfully destroyed many institutions in its decade long rule, the NCW also has been rendered toothless. Mamta Sharma, chairperson of NCW recently fought an election In Rajasthan on a Congress ticket.
Smriti Irani tells me of her experience with the NCW. When Rajbala, 51, was seriously injured during police crackdown at Baba Ramdev's camp, and lay fighting for her life in Delhi hospital, Irani personally tried to contact the NCW and requested them to visit Rajbala. No one from NCW even showed up. Nobody was interested in recording her statement or taking action on her behalf.
Irani tells me it shook her. She could not believe how partisan the NCW, a national level organisation that has the mandate of protecting and promoting the interests of women, had become under Congress rule.
What women want today is not a whole lot different from what men want. They want security, jobs, secure future and better lifestyle just like men. Women want no favours but they certainly would like level playing field. The BJP is the only party that is capable of delivering this because the BJP is the only party that is in a position to turn around the economy. The Economy has tanked under the Congress and a complete shift in focus can change that.
Sitharaman says in her extensive travels across the length and breadth of the country she has seen how families have been ruined, and women have borne the brunt of sinking economy. Sitharaman passionately talks about gender budgeting and how she has extensively researched how economic equality of women can be achieved through sensible and visionary policies.
Does the BJP believe in restricting personal freedom of women? This is another myth that has acquired real life proportions. Nowhere in my research did I find any official policy of the BJP that talks about restricting freedom of women. I asked Sitharaman if the BJP believes in telling women what to wear and what to think. Pat comes the reply 'Never'. I spoke to many young volunteers who work for the BJP in different parts of the country. Some of them have quit their jobs to work for the BJP during 2014 elections and they tell me that they have experienced no discrimination or any infringement on personal freedom.
2014 will be a watershed election. Much is at stake and much needs to be changed. Women need their voice to be heard and they need representation with real power. No dynastic organisation like Congress can give power to anybody other than the loyalists of the dynasty. At best they can spare doles and freebies. The BJP on the other hand is the only national party that at least believes in merit and empowerment of all.
For the 2014 elections, the choice for women is between change and status quo, freebies and real empowerment, merit and loyalty to one family. There is no doubt that BJP has lot more to do to ensure equality of women and ensure level playing field for all. It is a long way to freedom and equality but the BJP seems to have set itself on the right path and has the required will to achieve that dream for women.