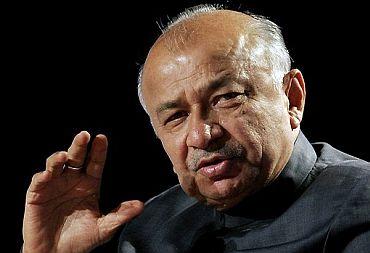 Home Minister Sushilkumar Shinde on Thursday refused to react to R K Singh's allegations against him, saying he no longer considered the retired bureaucrat as being a former home secretary but saw him as a politician and Bharatiya Janayt Party man.
"Singh is now a political man. His allegations are political in nature. He is now with the BJP. I do not see him as a former home secretary but as a BJP man. I will not react to his allegations," he told reporters in New Dellhi.

Read: 'No help from FBI on Dawood, Shinde is lying'
Singh has claimed that the home minister had allegedly interfered with the transfers and postings of the Delhi police. He has also accused Shinde of having given wrong information in the matter of the US helping India bring back underworld don Dawood Ibrahim.
Singh also remarked that Shinde was not fit to be the home minister and said Chidambaram was "100 times better" than him.
Singh joined the BJP in December of last year and may contest the Lok Sabha polls from Bihar.
Shinde said his Congress party and ministerial colleagues had already reacted to Singh's allegations.
The Congress has questioned the "opportunistic" and "low" behaviour of the officer.
Party general secretary Digvijay Singh claimed that the former home secretary had tried to get a post-retirement position from the United Progressive Alliance. "Shocked at the opportunistic behaviour of R K Singh, ex HS. Why did he not bring this to the notice of the cabinet secretary or the PM?"
"Is it not a fact that he tried to get a post-retirement position from the UPA? Is it not a fact that he had approached Nitish (Kumar) for a position?" Digvijay had said on Twitter.
Information and Broadcasting Minister Manish Tewari, too, has asked why the bureaucrat had not spoken up earlier.
Tewari criticised what he said was a tendency after retirement among bureaucrats to speak out against their former bosses. "I think it is extremely unfortunate. You have this very pernicious tendency of bureaucrats after retirement trying to make allegations in order to occupy media space," Tewari had said.
If Singh, or anybody else, was really so concerned, then why was the matter not put on record while they were in service, Tewari had asked.

Image: Home Minister Sushilkumar Shinde