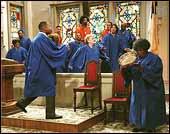 A rousing soundtrack, a few good comic scenes, and an over-the-top performance by Oscar-winner Cuba Gooding Jr sends mixed signals about The Fighting Temptations, yet another feel-good movie.
Black-themed films do not usually do well abroad, but on home turf many will yield to the energetic, hand-clapping melodrama and make it a medium-range ($50-60 million) success.
Director Jonathan Lynn, known for hits such as The Whole Nine Yards and My Cousin Vinny, has filled the film with wonderful R&B, gospel and hip-hop, an alluring Beyonce Knowles, and well-choreographed numbers. But the story about a small-town native returning to his roots after a soulless experience in a big city could have been written and narrated with better insights. And more irony.
Though Cuba Gooding Jr overacts, his dance numbers lend an infectious charm to the film. But Knowles, who is natural and confident as opposed to her sexy screen debut as Foxy Cleopatra in Austin Powers In Goldmember, is the film's biggest asset, apart from the music and dances.
Darrin (Gooding) is a rising New York ad exec who is saddled with a lot of problems, including a fake degree that will soon come to haunt him. He comes from a small Georgia town where he spent his childhood with his talented mother (Faith Evans) who had been thrown out of the church choir as her singing was considered too worldly.
After being fired for his lies, Darrin is summoned for the funeral of his Aunt Sally. There, he learns that he will inherit his great-aunt's stock holdings.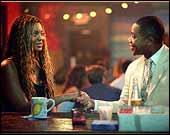 But there is a condition before the debt-ridden Darrin can inherit the $150,000 stock portfolio: he must lead the church choir to victory at the annual Gospel Explosion.
Now Darrin, who had told his folks that he is a record producer but who knows so little about music, has no choice but to work hard to transform the town's singers into a competition-worthy group in less than two months.
What he doesn't realise is that some of the people who disliked his mother do not like him either. As Darrin woos his childhood friend Lilly (Knowles), a single mother and beautiful singer, one of his mother's foes Paulina (LaTanya Richardson) gets worked up.
So limited is the talent around, even the non-believers are contacted to join the group. And soon a colourful and vibrant group, including a trio of inmates, is rounded up. Among the colourful residents is Mike Epps giving one of the film's more heartfelt performances.
The tame ending shows reward and punishment meted out to many people and Darrin learning the errors of his devious and deceptive ways.
CREDITS:
Cast: Cuba Gooding Jr, Beyonce Knowles, Mike Epps, Faith Evans, LaTanya Richardson
Direction: Jonathan Lynn
Story: Elizabeth Hunter, Saladin K Patterson
Music: Jimmy Jam, Terry Lewis, James 'Big Jim' Wright
Production: Paramount Pictures/MTV Films
Running time: 120 minutes
Rating: PG-13