Home > Movies > Interviews

The Rediff Interview / Simi Garewal

The Bachchans' complete family show!

Lata Khubchandani | September 20, 2003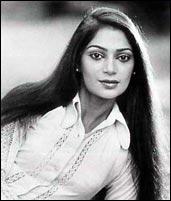 Rendezvous with Simi Garewal, her show on Star World, has built up a bank of avid watchers and fans over the years.
But Simi Garewal has continued to remain bright-eyed and interested in her subjects. She continues to draw them out in a way very few television anchors can.
The actor-anchorperson has now pulled a coup: in October, she will broadcast a show with the entire Bachchan family -- Amitabh Bachchan, wife Jaya, son Abhishek and daughter Shweta.
This will be the first time that the family has come together on air.
Simi, of course, says Lata Khubchandani:
| | |
| --- | --- |
| | Don't Miss! |
| | |
This must be a special show for you.
All four together is special. I have interviewed Jaya and Amitabh earlier. I have interviewed Abhishek solo.
To get them all in front of one camera, on one show -- no one has done that, even Amitabh and Abhishek together. Shweta flew in [from Delhi] specially for the show after I invited her. That makes the whole thing special.
There they are: wonderful, glamorous. It's the complete family show.
| | |
| --- | --- |
| | More on rediff.com! |
| | |
Will we hear something we have not heard before?
You will get a glimpse into their private family world. You will get to know the equation in the family. How Shweta and Amit are aligned; how Jaya and Abhishek are aligned.
You will hear their little family jokes; the serious moments of their lives, how they faced them; their ups and downs; how the family functions at a level of humour which is very much prevalent.
I don't know how much of this has been heard before. Different people have different levels of information.
It is not going to be earth-shattering news about them, no breaking news. But it will certainly be an insight into their family.
The fact that they will let down their hair on your show is a given. How do you manage it?
I don't know how to answer that. You will have to ask one of them. Ask them what happened and how it happened.
There's no strategy I use. I think I am just genuinely interested and involved with them while I am with them.
You have interviewed Jaya and Amitabh earlier. What change have you noticed now?
I can see the difference. I may not mention it to them. But the way they speak, their confidence levels, their body language -- there is a change.
The interview will be spread over two episodes. On October 5, it will be the kids, their jokes, their fun -- all the ghar ka [family] stuff. But, for me, the second part is the best. It will be telecast on October 12. We celebrated Amit's 61st birthday on the sets [Bachchan's birthday is on October 11].
Click here for More Interviews